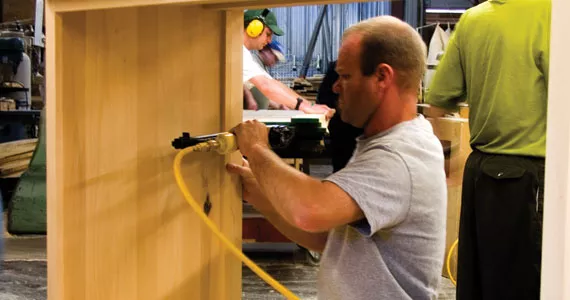 It hasn't always been easy for Cathy Finley. After years of battling mental illness, she wound up in the hospital in 2009. After that, it was a struggle trying to re-establish herself in the working world.
"My occupational therapist thought LakeCity would be an excellent place," Finley says. "I had never known of them."
That LakeCity Employment Services remains unknown to so many is surprising, as the Dartmouth counselling centre has been helping those suffering from mental illness find stable, reassuring work environments for over 30 years.
Starting out as the Dartmouth Activity Centre in 1972, the organization that would become LakeCity provided drop-in services aimed at teaching life skills and reintegrating those coming from mental health services into the community. It became clear that stable, steady employment was a crucial component to living better, so LakeCity Woodworking was incorporated in 1982 to fulfill that need.
"They learn to work in our business," says executive director Chris Fyles. "They gain friends and direction."
That's what Finley has experienced in her time with LakeCity, where she's worked as an administrative assistant since 2010.
"I've learned so many things. It's changed my life exponentially," she says. "Everybody is treated like a real employee. You're there to do a job, and you do it to the best of your ability."
The non-profit agency helps those suffering from a wide range of problems, including schizophrenia, bipolar disorder, depression and anxiety. Some have worked with LakeCity for 25 years, but Fyles says most are just working their way up off of social assistance.
Over 50 people work on site, trained and supported by staff members in the production of high quality wood products. Everything from beds to tables, bookcases and chairs are crafted by hand and are available for purchase in LakeCity's retail showroom. An additional 400 people are helped by LakeCity at any given time to find and maintain employment out in the community.
If you or someone you know could benefit from LakeCity's psychosocial rehabilitation, all that's needed is to fill out the referral form available on their website. From there, employment counsellors will schedule a meeting to discuss career options and training.
"It's not a recovery from your mental illness, but it's a recovery of the life you've lost because of your mental illness," says Fyles of what his organization offers. "We help them build that back up."
For Cathy Finley, that recovery process has provided a refuge of normality that many in our community are still trying to achieve.
"There are a lot of people trying to reestablish themselves coming from the hospitals, and LakeCity provides that," she says. "Just getting back into the workforce and knowing I could do a job, get up and go to work, knowing even if there's something wrong with you you'll be treated like a regular employee. Everybody deserves that."
---
LakeCity Employment Services Association
386 Windmill Road, Dartmout, 465-5000, lakecityemployment.com
For those struggling with mental illness, finding and keeping a stable work environment can be a daunting challenge. For more than 30 years, LakeCity has been helping individuals re-establish themselves in the working world, either through their woodworking program or at large in the community. "A lot of people struggling with mental illness are isolated, not engaged," says executive director Chris Fyles. "So this is a place where people can come, get engaged, work with others, and work hard." LakeCity's counselling services are open to anyone over 19, who has been diagnosed with a mental illness and can help with everything from job interview prep and resume writing to finding and maintaining employment.
How to give: Purchase some finely made woodworks from its retail showroom, or, if you're not in the market for new furniture, donate directly via the website or contact Chris Fyles at extension 113.