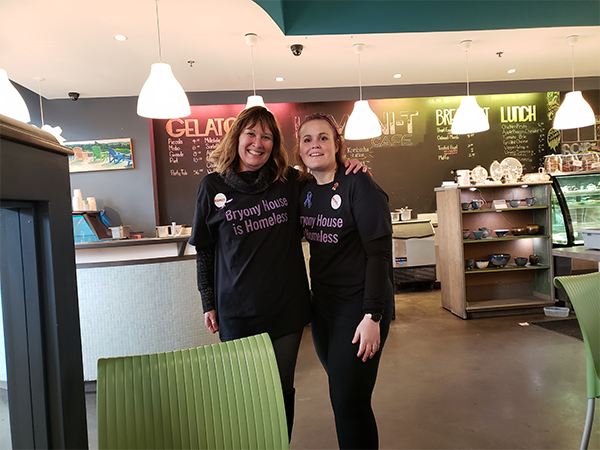 A fter almost 90 days since shuttering its women and children's shelter, Bryony House finally has a place to call home—for now.
Executive director Maria MacIntosh says after a three-month search, women and children escaping domestic violence in Halifax will soon have a place to stay.
"We are likely going to be operational within weeks" MacIntosh says.
The Bryony House is the only shelter for women and children fleeing domestic and intimate partner violence in Halifax. It houses 470 women and answers 2,500 distress calls annually. Though in recent years, the building's structure has rapidly deteriorated.
The 200-year-old, six-bedroom house was prone to flooding "every time it rains," MacIntosh says. Then in September, Hurricane Dorian ravaged the province and delivered severe damage to the shelter.
MacIntosh says a fire inspector assessed the building's condition soon after Dorian and confirmed there were other major issues that needed significant repairs to fix, and as a result Bryony House was formally ordered not to bring staff or clients back to the shelter.
The closure meant 13 women were displaced from Bryony House, MacIntosh says. Though she could not divulge where the women were rehomed, she says all of them were given a place to stay within 24 hours. Some were sent to hotels for temporary, one- to two-day stays, others were given options to stay in other transition homes all over the province.
Two weeks ago Kristina Fifield, a women's counsellor at Bryony House, and the Public Service Alliance of Canada, the union representing the employees of the shelter, took to the streets in protest of the handling of the shelter's closure by management.
In a public letter addressed to MacIntosh and the board of directors, PSAC asks why a temporary home was not in place in case of emergency as management has known about the building's ailing condition for years.
"It's one situation after the next," Fifield says. "The weather plays a huge part in what's going on at the shelter. People are putting temporary fixes in place, trying to get us through until the new location is open. These temporary fixes have run out."
Fifield has worked at Bryony House for nine years. She says maintaining women and children's safety has been her top priority since the shelter closed. But finding nearby locations for women and their children is proving to be a challenge for Fifield and her colleagues.
"Getting those referrals, and getting a referral to another location outside the city, we all know that has some serious wait times," she says. When you take child custody agreements and the need for other local services and resources into account, a simple transfer to a shelter outside the city is no longer an appropriate alternative.
Bryony House is no stranger to closures and has evacuated clients several times before. At one point, the shelter was closed for a period of four to five months. But MacIntosh added that women who experience intimate partner or domestic violence should not be deterred from contacting Bryony House, despite its lack of a shelter.
"We're still doing almost all of the same things that we do when we operate the shelter," MacIntosh says. Some of those services include a 24-hour distress hotline and one-on-one counselling services.
Fifield says she and her colleagues do whatever they can to make it work because they know women's lives are on the line. "I think the house has served its purpose over the last 41 years," she says. "Has it been a perfect set up? Absolutely not. The layout of the house is not great for how we need it to work, but we've made it work and we've provided safety."
In March 2019, Bryony House received $2.33 million from the National Housing Co-Investment Fund for the construction of a new shelter, a project in the works since 2016 and projected to cost $6.5 million.
At least 25 percent of the National Housing Strategy money, which the NHCF was born out of, aims to support projects targeting the needs of women and girls.
According to StatsCan, between 1996 and 2015, 40 women were murdered by their intimate partner in Nova Scotia.
Friday, December 6 is the National Day of Remembrance and Action on Violence Against Women and 30 years since the École Polytechnique massacre, in which 14 women were targeted and shot dead.
If you are in need of immediate assistance or support please contact Bryony House at 902.422.7650 or visit thans.ca.