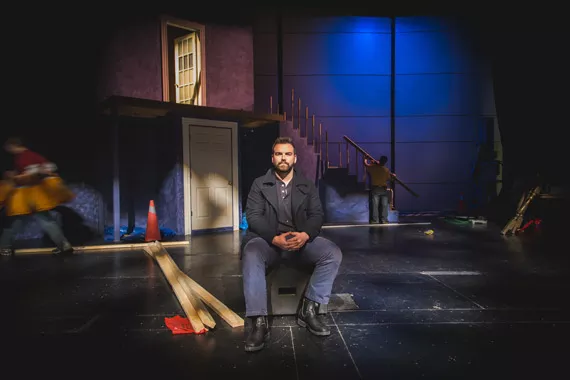 Coffee-drinkers look up from their cups as Matthew Beasant pushes open the door at Two If By Sea on a drizzly Dartmouth afternoon. There's an aura of barely contained excitement about the solid, bearded young man, and he moves with quiet confidence—as if he's on a mission.
And that's not very far from the truth.
Beasant is the co-founder of a new musical theatre company called Broadway Atlantic, and his mission, in his own words, is "to capture the magic of Broadway and unveil the heart of Atlantic talent."
Beasant's love affair with musical theatre began at a very young age. His mother, Stephanie McKeown, was a single parent studying music at Dalhousie when he was born. From there, she went on to become a popular high school music teacher, and is well-known for directing impressive school musical productions. She works hard to give students the opportunity to be involved in live musical theatre, and there's no doubt that she has passed this passion on to her son.
Beasant recalls being a kind of mascot to the students working on the high school musicals, and some of his earliest memories are of watching his mother audition the cast and pick the pit band.
"Music and musicals were the biggest things in the world to me when I was growing up," he says. "I got to watch every part of the process, from the casting, to sets and costumes, right through to the sound check and the cast party. I saw how much my mom inspired people, and I have to say, it made a lasting impression on me."
It wasn't long until Beasant was bitten by the acting bug. He recalls his debut in The Pajama Game at Halifax West as a trial, and a triumph. "I think it was my worst year, ever. There was an absolute uproar when I got cast in the lead role," he says. "Grade 10s don't get leads, and of course everyone said it was because it was my mom's show.
"But I worked really hard. It got a very good review and it was a really successful show. It ended up being a great experience."
This story, on top of his childhood steeped in musical theatre, goes a long way towards explaining the scope of Beasant's ambitions: His passion is bred in the bone, and he has something to prove.
He followed in his mother's footsteps and got his Bachelor of Music degree at Dal. From there he became the Music Education Centre Coordinator with Long & McQuade—a job he loves since he says it offers him the opportunity to get to know many of Halifax's up-and-coming musicians.
Beasant never stopped performing, and in 2011, he was cast in the role of Tom Collins in the large-scale local production of the Broadway musical Rent. It was staged at the Spatz Theatre by a company called DGM Inc., directed by Nina Scott-Stoddart with musical direction by Stephanie McKeown.
"I learned a lot from that production. It made me see what was possible here in Halifax," Beasant says, adding that he gleaned a wealth of information about the business side of producing big musicals in the process. Beasant saw Rent's success as proof positive that staging New York-style productions with a combination of amateur and emerging-professional actors could produce a quality, audience-pleasing theatre experience.
Beasant's creative wheels were turning, but it wasn't until early in 2015 that a close friend connected him with Ivano Andriani. Andriani is a theatre-lover who has dreamed of seeing big shows staged with local talent and with a full orchestra rather than the usual-to-Halifax small pit band. He came on board as the financial backer to make the dream of Broadway Atlantic a reality.
Choosing The Sound of Music to be Broadway Atlantic's first production was a no-brainer according to Beasant: "Really, it would be hard to think of a musical that appeals to a wider demographic."
Beasant, along with McKeown as musical director and Scott-Stoddart as stage director, held auditions in July, with the large cast being chosen entirely from local performers.
"Matthew and I have shared this dream for years," McKeown explains. "We wanted to do a big show on a big stage with people who were strong singers, first and foremost, but who also had natural acting ability. We wanted to give Halifax another opportunity to see big musicals, and most importantly, we wanted to shine the spotlight on all the amazing talent we have right here at home."
McKeown says that two things are really at the heart of Broadway Atlantic's strong focus on local talent: The desire to create a company that can function as a springboard for local performers onto an even bigger stage, and a concerted effort to "grow" theatre patrons by rooting the productions in the community.
"This production is coming together with help from many local sources—Long & McQuade, Neptune Theatre, Dartmouth Players, the families of all the kids on stage and so many more," McKeown says. "When something is built with the support of the community, more people are invested right from the start, and I think that translates into more people coming out to live theatre."
Scott-Stoddart, who is also artistic director of the Halifax Summer Opera Festival, says she has experienced exactly that with the opera fest.
"When you ground the work in the community, it ensures you're making something that is relevant to that community. People will want to support it," she says. "And that in turn ensures longevity for the company."
She also fully expects that people will be blown away by The Sound of Music, and particularly by the impact of staging it with a full orchestra. "The Sound of Music is nothing if not symphonic. There's really no comparison between a production with a full orchestra and one without."
McKeown agrees whole-heartedly. "When the audience hears the full brass section at the end of 'Climb Every Mountain,' they are going to feel chills."
And that, says Beasant, is exactly the reaction that Broadway Atlantic is going to continue to inspire. "We are here to make a lasting impression—and we are here to stay."
---
The Sound of Music
Friday, November 13, 7:30pm Saturday, November 14, 2pm and 7:30pm Friday-Saturday, November 20-21, 7:30pm Sunday, November 22, 2pm
Spatz Theatre, 1855 Trollope Street
$33-$46