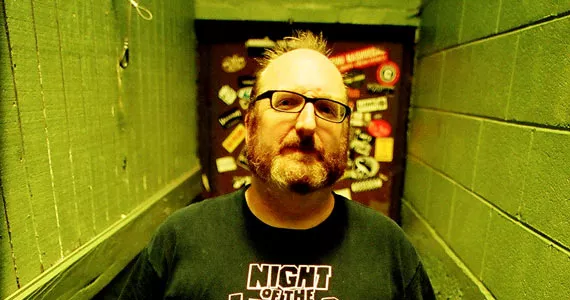 Most comedians may be former class clowns, but few can school the teacher like Brian Posehn.
Long before his appearances on cult TV hits like Mr. Show and The Sarah Silverman Program, before his 2013 comedy special The Fartist and before his headlining set at the Halifax Pop Explosion, Posehn was cracking wise as a means to defend his classmates.
"We had a teacher that wore an obvious wig. And no one had the balls, or was dumb enough, to say anything about it. But I did one day," Posehn says over the phone, of his high school hijinks. When asked whether or not that teacher was a male with a toupee, Posehn chuckles and says "Yeah, he had a toupee. It would be mean to make fun of a female teacher with a wig...He yelled at my friend one day and was about to take him out of the class. And I said, 'Mr. Grace, did you flip your wig?' Everyone lost it."
But that kind of popularity was often elusive for Posehn. He first moved to Sacramento with his family in the summer between third and fourth grades. Friendless and new to town, he spent most of August in the local library, checking out enough books to be awarded a $20 gift certificate at the neighbouring ice cream parlor.
"So that was my breaking-the-ice story with the kids at school that fall, and it did not fly," he says, while laughingly imitating his younger self: "'Hey yeah, I'm new, but I already won your reading contest over the summer.' That was the first time other kids said 'Man, that's not cool.'"
By high school, he had won over many of his classmates with fart jokes and a generally silly demeanor. He tried his hand at open mics immediately after his 21st birthday. But that early act lacked his class clown charm---instead Posehn relied on a macho forced confidence, and what he describes as "jokes that weren't about anything."
That shallow bravado quickly faded when, a few years in to his floundering career, Posehn was forced to realize all that he had to lose. A beach day of boozing and horsing around with pals turned harmful, after they decided to take turns jumping off a lifeguard tower. Posehn broke his back upon impact.
He was paralyzed for the next 10 days. The doctors recommended surgery that would save his life, but leave him wheelchair-bound forever. The alternative was to lie in bed for three months and hope that his back healed. His walking ability eventually returned, naturally.
He says those weeks of waiting were more painful than the injury. He adds: "I spent the last month or two in an old folks home, because I didn't have insurance. I thought about standup the whole time."
The gamble proved to be wise. Months later he was walking again and returning to the road---preparing his act more diligently and executing it with impassioned sincerity. That struggle also helped him admire fellow comedians like Sarah Silverman, with whom he'd costar on her eponymous TV series. Posehn marvels at Silverman because, unlike him, she was genuine onstage from the start.
"I met her when she was 18, and she already knew what was funny. When most comedians start, we do what works for other people. She was already doing her own thing," he says. He adds that Silverman helped him appreciate the day that he found his own unique voice---rife with jokes about fatherhood, abstaining from weed and more.
"I'm getting more...refined isn't quite the word for what I do, when you're talking about farts and body parts and stuff. But, onstage, I'm way more in the moment now."
---
Brian Posehn
Tuesday, October 22 at 7pm w/Jon Mick, Kyle Hickey, Meg MacKay, Brian Aylward Wednesday, October 23 at 7pm w/Cheryl Hann, Craig Martell, Struan Sutherland, Paul Warford
Reflections Cabaret, 5184 Sackville Street $20