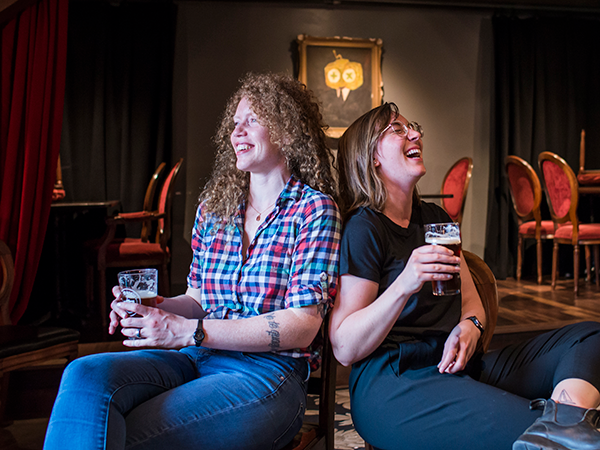 Brewster Fest
Saturday, April 27, 1-4 & 7-10 pm
Mayflower Curling Club 3000 Monaghan Drive
$30
tickethalifax.com
---
Unofficially kicking off Nova Scotia Craft Beer Week is Good Robot Brewing Co. with an all-women Brewster Fest.
On April 27, over 15 craft breweries in Atlantic Canada will bring a beer crafted by or with women-identifying brewers to Halifax.
It's just like a regular beer festival: You buy your ticket, you get to sample a variety of craft beers, you even get a cute little glass to keep. The only difference is you know the beer you're drinking was crafted with women.
For Kelly Costello, brewer at Good Robot, it all comes down to representation.
"We don't see ourselves in the industry and we've been told for so long that we don't like beer," she says. "If a young girl or woman doesn't see herself reflected in that industry, she won't try."
And if Costello wants to change the gap in women brewers and drinkers, she knows she needs to put in the work–and that she has the voice and ability to do the work to increase awareness and learning opportunities for other women.
"I think there are a lot of really hard-working women in the industry," she says, but Costello wants to see more. Despite a third of craft beer-drinkers being women, that stat doesn't trickle into the brewing side of the industry.
What began as an extension of Good Robot's annual International Women's Day celebration, FemmeBot, turned into the mini-festival to foster even more "brewsters" (the old-timey word for a woman who brewed beer). It's a challenge to make the craft beer scene a more inclusive and safe space for all.
"We were originally going to do it on our own turf" at Good Robot, says Costello, "but just decided to go big or go home."
The reaction to the festival from Atlantic brewers Costello reached out to has been positive, she says. Breweries that don't employ women brewers were slow to commit, but made efforts to collaborate with women in order to submit a beer.
There are two opportunities on Saturday for you to make sure the beer you're consuming came from the fruits of labour of women, one in the afternoon and one in the evening, both at the Mayflower Curling Club.