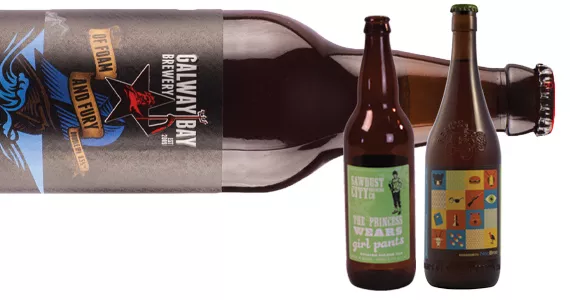 Choosing from 275 beers and ciders is no task for the lily-livered. As with any festival, you'll get the most out of Seaport Beerfest with a game plan. Topping my list is Stillwell's Cask Pavillion, featuring five rotating casks per session from some of the Maritimes' best: Boxing Rock, Garrison, Propeller, Big Spruce, Hell Bay, Meander River, PEI Brewing Co. and Granite. But since their contents remain a mystery, I've pre-emptively filled my tiny stein with these out-of-towner must-trys.
---
BEER: Thé de Labrador
STYLE: Amérindien IPA ( 7%)
BREWERY: Le Naufrageur in Carleton-sur-mer, Quebec

The first in this fantastic brewery's A-le Amérindienne series, which pays homage to the botanical knowledge of the Gaspé's region's First Nations people. Brewed with Labrador tea as well as herbs and flora of the Gaspésie, this sneaky IPA has a surprisingly light, citrusy hop flavour balanced by minty tea.
---
L'Ours
Sour/Wild Ale (6.5%)
Le Troue de Diable in Shawinigan, Quebec

If I could only try one beer, it would be this blend of 20 percent oak-aged sour rye ale and 80 percent young saison. With a sour nose and a taste that's pure barnyard funk—bretty, lemony and slightly woody—each blend is unique, playing up its bitterness, acidity or fruit flavour.
---
Maddaddamites NooBroo
Summer Gruit (5.2%)
Beau's All-Natural Brewing Co. in Van Leek Hill, Ontario

Literary icon Margaret Atwood's dystopic trilogy inspired rural Ontario's craft beer gods to brew this Medieval-style spiced beer for its Wild Oats experimental series. In lieu of hops, a spice blend (gruit), including rosehip, elderberry, and other forager's delights, gives NooBroo a light, tart, herbal character. And profits help endangered birds, you guys.
---
Of Foam and Fury
Double IPA (8.5%)
Galway Bay Brewery in Galway, Ireland

For one weekend only, Nova Scotia's been blessed with the luck of the Irish—we should grab a taste while we can. With an aroma of tropical fruits, this big beer follows through with grapefruit, peach and nectarine hop flavours blended with sweet malts for a juicy, bittersweet, dangerously drinkable DIPA.
---
The Princess Wears Girl Pants
Belgian Golden Ale (9.3%)
Sawdust City Brewing Co. in Gravenhurst, Ontario

From a brand-new micro making waves in Ontario, this hoppy Belgian-inspired seasonal is spicy and bittersweet. Flavours of lemon, pine and tropical fruit are blended with Belgian yeast for a floral, effervescent, easy-drinking ale despite its high ABU. Topped off with a rare hop profile of Sorachi Ace, Meteuka, Galaxy and Mosaic.
---
Seaport Beerfest
Cunard Centre, 961 Marginal Road
August 8-9
seaportbeerfest.com