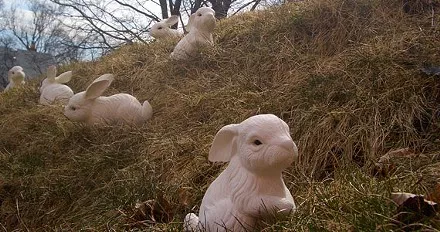 With a theme like space and time, there is no doubt Nocturne 2013 is going to be out of this world. Curator Eleanor King chose the theme in hopes of creating a cohesive flow for the nighttime festival. Being the first ever curator, King got the position after being approached by the Nocturne board. Guilty of vocalizing her opinion towards Nocturne's minimal past, King says, "I've experienced Toronto's Nuit Blanche as an artist and as an audience member and I just feel the organizational structure was sort of something I wanted Nocturne to be closer to." As one of the jury members who reviews submissions, King says installation proposals will be chosen based on artistic excellence, innovative ideas and practicality. "I want to give opportunities to emerging artists but also want to work with artists who are capable of creating a large scale project." As for the theme, King hopes artists will consider the site (or space) in which their work will be showcased, as well as whom their audience is. She uses Quebec artist Isabelle Hayeur as an example, "She has a series of projects that are site specific, where she does her research on the site, takes footage from the space that the piece is going to be projected in." Hayeur's work is in the form of film and video animation, which she puts on an infinite loop to represent extended time.
The purpose of this year's theme is so installations can be placed thematically and in relation to one another, creating an easy flow for the audience to follow. "I want people's experience of contemporary art to be positive," King says.
While bringing in a curator is news in itself, Nocturne 2013 has undergone another change. Lorraine Plourde has recently become the new board chair, after Rose Zack respectfully stepped down from the position. After dealing with the boredom of unemployment, Plourde joined the team last February to get involved in the arts community. "I had received EI twice already and the first time around was a lonely and sad period," Plourde says. "Joining Nocturne was probably the best decision I made personally and professionally." The Quebec native has worked on projects like the Festival International de Jazz de Montreal, proving her experience in the field. As part of her new role, Plourde hopes to move Nocturne forward by introducing events such as a kick-off night, where people in the arts community can share their experiences before the festival begins.
An information session for hopeful Nocturne participants will be held tonight, Thursday, April 25 at The Hub (1673 Barrington). Once proposals are submitted, the jury will decide who is eligible for the showcase. The event is run on a volunteer basis and installations are funded by an HRM grant. Sound appealing? Just wait until October when the nighttime art madness finally begins.