In March, almost as soon as the concerts funding scandal came to light, city hall's head bureaucrat
Wayne Anstey resigned
. Now, with city auditor general Larry Munroe's report revealing the backstory, the question of blame needs to be raised again. Should mayor Peter Kelly resign over his involvement in the funding scheme?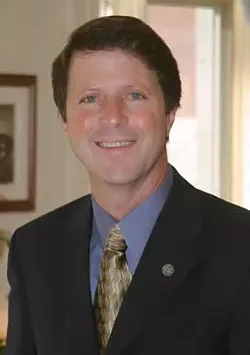 Absolutely. Kelly was intimately involved in the scandal, hosting meetings to arrange the improper financing and signing legal contracts that he had to have known were against city rules. Kelly was one of the main cheerleaders for the Common concerts, urging that still more concerts should be held even though he knew actual attendance numbers for past concerts were far lower than published media reports indicated. And, as if that's not enough, Kelly knew that millions of dollars in loans were being advanced to concert promoter Harold MacKay, and Kelly knew full well that city council has to approve any financial arrangement of this magnitude, but Kelly kept knowledge of the loans from council. In the face of these facts, there's no question that Kelly should take responsibility and vacate his office.
Let's not, however, over-simplify the scandal as a "Kelly screwed up" and leave it at that. Yes, Kelly should resign, but others, too, should be held to account.
In terms of culpability, the biggest player in the scandal is not Kelly but Trade Centre Limited---which I've detailed here.
A proper response to TCL's repeated impropriety is for Halifax city council to refuse to pay TCL's $359,550 invoice and to initiate legal proceedings against TCL for recovery of all funds related to the unauthorized takeover of Metro Box Office. Additionally, provincial auditor Jacques Lapointe should put TCL under his microscope.
Much of TCL's impropriety dates back to the term of now-retired TCL president Fred MacGillivray, who I guess gets to ride off into the sunset, basking in the glow of his
$1.2 million pension
. But current TCL president Scott Ferguson is likewise at fault to a stunning degree: Ferguson knew that advances from ticket sales were improper---TCL's auditor reprimanded Ferguson for making advances from ticket sales for the 2008 IIHF Hockey Championships---but Ferguson continued the practice for the Common concerts anyway, by arranging for the city to back the loans.
Put simply, the improper loans would not have been made without both Kelly and Ferguson. Yes, Peter Kelly should resign. And Scott Ferguson should resign as well.