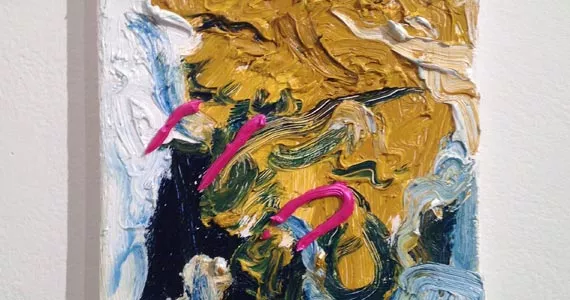 Since moving to Halifax nine years ago, Daniel Joyce has made a deep and lasting impact on this city's cultural landscape. He's been a student---in 2007, he graduated from NSCAD with a BFA after transferring from Fanshawe College in his native Ontario---and an arts administrator, having lead the venerable Khyber Centre for the Arts as its Artistic Director since 2009. All this while, Joyce has also been a practicing visual artist, dabbling in everything from painting and sculpture to collage, found objects and photography. Bon Choice Daniel Joyce will be his last exhibition in Halifax before he packs up later this summer to pursue a graduate degree at the University of Toronto---it opens this Friday at Hermes. It's a collection of mostly recent works that presents Joyce at his active present while simultaneously revisiting his past.
The show includes an amalgam of porcelain sculptures (a new medium for him) and oil paintings, both of which evoke abstract, corporeal images. "I have been wanting to include some hand-sculpted elements into my body of work, so I was happy to be included in a porcelain project curated by Natalie Slater for the Shiso Shop," says Joyce. "She chose several artists and gave us all a small amount of porcelain to work with. I was quite happy with the two small pieces I made so I invested in a larger slab and made the work for this show. In this way I'd say that the route that my art takes is largely inspired by friends. I love to listen to a friend discuss the things they are making."
For Joyce, the pairing of these recent porcelain sculptures and his three-dimensional, elemental paintings makes sense. "I like how they related to these paintings that I've been working on," he says of the sculptures. "I wanted to have something to go with the paintings that are also equally sculptural, so I figured these porcelain works would be suitable."
In that sense, Bon Choice Daniel Joyce will eschew moving-away nostalgia in favour of a true representation of Joyce's practice as it stands today; his fondness for pushing his own boundaries is certainly reflected in both his choice of materials and ever-changing style. However, the paintings on display will also recall much of Joyce's past work. Some of the paintings have been a long time coming: while Joyce produced some pieces within a matter of days, he's been adding "layers and layers and layers" of paint to others over the course of several years.
At Fanshawe College, "I was doing these really big paintings that were very drippy." says Joyce. "A lot of drips, a lot of evidence of the paint or the material. Then I came to NSCAD, where the push is very conceptually driven. I kind of went away from painting and started doing found object-based sculpture or re-appropriated images. In a way, this [exhibition] is a kind of callback to when I first moved to Halifax because it's about the paint and the material again."
While the future beyond his Master's program is relatively uncertain, Joyce seems hopeful for what's next to come, for both himself and the artist-run centre that he's spent the past five years leading.
"It's a good time to hand it over to somebody else," he says of his decision to leave the Khyber. "The Khyber was my project... there were definitely a few months that would pass by in the year where I wouldn't be in the studio at all [because of] Khyber stuff. It'll be nice to be able to focus on making things again."
---
Bon Choice Daniel Joyce
Opening Friday, July 25 at 5-8pm
To August 3
Hermes, 5682 North Street