On my Nuit Blanche trip to Toronto I visited the amazing Artscape Wychwood Barns, an old streetcar repair barn transformed into a cultural community centre with affordable residential housing and a farmers' market. The Master Plan for the Bloomfield Centre, which was passed by council in September, follows a similar mixed-use model.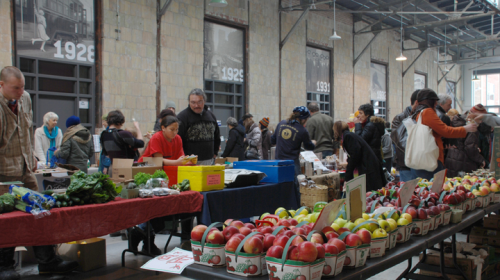 Wychwood Barns, best in show winner, Ontario Association of Architects Awards
Artscape, a "non-profit, urban development organization that revitalizes buildings, neighbourhoods, and cities through the arts" has been a positive force in Toronto. I can't think of a single project that's failed, actually. They were doing the green thing well before it became a toss-away marketing term, and they've never quibbled about modern vs. historic architecture styles, though I see their current project—affordable artist loft space on Queen West—as a smart way of protecting an area that traditionally was "owned" by artists before the fancy condos and restos moved in and rents shot up.
On Thursday, Imagine Bloomfield, sponsored in part by HRM, is hosting Artscape for a day-long workshop on cultural space development. The event focuses on building capital campaigns and development, with spotlights on local projects. According to Imagine Bloomfield board member Susanna Fuller, there are registrants coming from Saskatoon, Hants County, Truro and Newfoundland as well, hoping to soak up some of this expert creative community knowledge.
While I'm enthusiastically hopeful for Bloomfield's future, I really hope this workshop is a a step towards resolution for the Khyber ICA. We're still waiting for results from the consultants' report, which was supposed to be released late summer/early fall.
"The FREITAG SHOP ZURICH is completely built from rusty, recycled freight-containers. Lovingly they were gutted, reinforced, piled up and secured. Zurich's first bonsai-skyscraper: Low enough not to violate the city's restriction on high-rise buildings. High enough to send shivers down anyone's spine."
But maybe it's time for us to start thinking inside the box too. Two years ago when I was in Helsinki, we visited a portable art gallery housed inside a container box, and I've been obsessed with container architecture ever since, especially after reading that it's estimated there are over 700,000 abandoned containers in US ports. Hello? We live in a port. I'm guessing we can find a few...
Cool links to container architecture:
http://www.flickr.com/photos/fredag/
http://weburbanist.com/2008/05/26/cargo-container-homes-and-offices/
http://www.nytimes.com/2003/07/17/garden/last-stop-for-long-haul-containers.html The architect mentioned here, Jennifer Siegal, spoke in Halifax a few years ago on her prefab dwellings. Very cool.