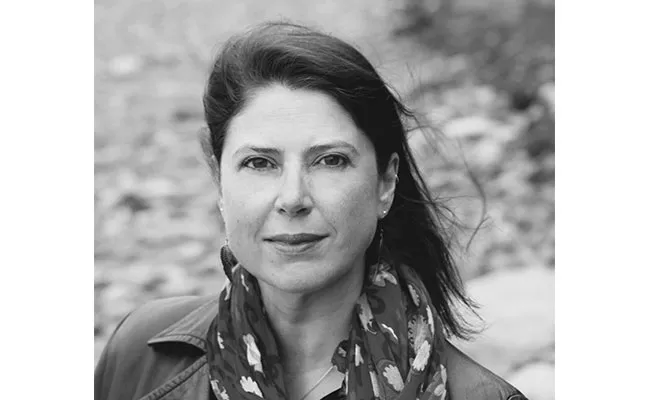 Jo Treggiari, Blood Will Out launch w/Split screening Wednesday, July 18, 6pm Halifax Central Library 5440 Spring Garden Road free
Ari Sullivan wakes up at the bottom of an abandoned cistern, concussed and confused with only her wits and tenacity to guide her—how did she get there and how will she possibly escape? That's the premise of Lunenburg author Jo Treggiari's foray into YA horror with Blood Will Out.
Following up the success of her post-apocalyptic novel Ashes, Ashes, Blood Will Out is a tense thriller told through alternating chapters of Ari in the third person and a faceless psychopath in the chilling first as they flash back to various traumatic life moments—a young making of a murderer.
"What's the scariest thing I can think of?" posits Treggiari. "A serial killer just starting out. It was pretty nightmarish for about a year because I write from a visceral place. I really try to feel what my characters are feeling and make my books as sensory an atmosphere as I can. A first-person serial killer...was not a comfortable place to be."
Treggiari's fledgling killer is written to neglect identifying features like age, appearance and gender in such a way that she creates an evolving sadistic shape-shifting monster that lurks in the shadows of your imagination—at once the handsome swim captain, the weird loner, the town drunk, the zealous biology teacher—any of them or maybe none at all. These chapters are peppered with skin-crawling depictions of a zest for violence that is as much learned through abuse and trauma as it is innately discovered within.
"It's a monster I was writing," she says. "I wanted to humanize the character but not so much that the reader forgets it's a monster...I had to find the spark of humanity because there has to be something there that people can understand how someone could evolve this way, I wanted it to ring true."
While partly a suspenseful and anxiety-inducing exploration into the mind of a serial killer, there are also breaks of levity in Ari's chapters with flashbacks on her average high school life and the bond she shares with her opinionated and firecracker of a best friend, Lynn—the only person she thinks might save her in time.
The book "doesn't have romance," says Treggiari. "The love is between Ari and Lynn, something that comes out of our lives—friendships that really stay with you are the ones you form as a teenager...Their friendship is what saves them."
When the adults in their lives fail them in various ways, despite being caring or competent, it's the special kind of entwined friendship that exists between girls that ultimately allows Ari to piece it all together.
As reader reviews for Blood Will Out reveal a polarizing reaction to the sometimes graphic and unnerving material, it's the depiction of strong female friendship and the perseverance of fierce Ari—unyielding even as she gains and loses ground—that sticks with you through the murkiness of real horror.
We used to have R.L. Stine and Christopher Pike, but those were the days of staying out until the streetlights came on and not worrying what might be waiting in the woods. Teens these days need to be made of stronger stuff.
"Reading dark is a great way to find out about and dip your toes into the reality that there's a lot of darkness in the world," says Treggiari. "It's a safe place—you can always put a book down if you need to, and come back to it on your own terms."