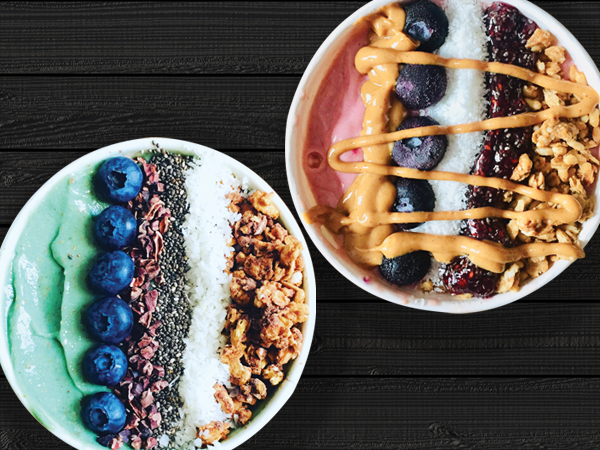 Bliss Bowls
Halifax Seaport Farmers' Market
1209 Marginal Road
Saturdays and Sundays
---
Erin Lecky, founder of Bliss Bowls, discovered her love for smoothie bowls while visiting Bali a few years ago. "I didn't get very good at surfing," she says. "But I did find the most delicious smoothie bowls. When I came home, I was inspired to create something."
She opened Bliss Bowls last summer as a small business on Conrad Road, located near Conrad's and Lawrencetown beaches. Thanks to the bowls being incredibly photogenic, they soon became popular with local beachgoers and Instagrammers. In June, Lecky and her business partner, Laura MacLeod, decided to move the business to the Seaport market where you can find them every Saturday and Sunday.
The current menu includes three smoothie bowls, each with their own nutritional value and colour scheme. All bowls come with signature toppings, like hemp seed granola, fresh fruit and chia. Plus, customers can order extra toppings, including house-made tahini caramel sauce and chocolate peanut butter sauce.
The bowls rotate as Lecky and MacLeod experiment with new flavours, like peanut butter and jam, pumpkin chai spice and perhaps even chocolate mint for the winter holidays. One of the most popular bowls, the Ocean Bowl, is made from banana, mango, pineapple, blue spirulina and green chlorella—giving it a vibrant aquamarine base. Aside from their attractive appearance, Lecky says smoothie bowls are deceptively filling and provide a kick of sweetness.
"I feel like it's a dessert and a healthy meal all in one," she says.
In order to run a smoothie bowl business, Lecky says her life revolves around sourcing and prepping ingredients. "I have 120 pounds of bananas in my car right now!" she says. Each week, she and MacLeod prepare up to 80 cups of granola and ensure all the bases, toppings and sauces are ready to go for the weekend. Despite the workload, Lecky isn't stressed. She takes inspiration from American writer Joseph Campbell, who once said: "Follow your bliss and the universe will open doors for you where there were only walls."
"Bliss Bowls is about igniting that little spark of bliss that we all have," Lecky says. "We're trying to make people happy with food."