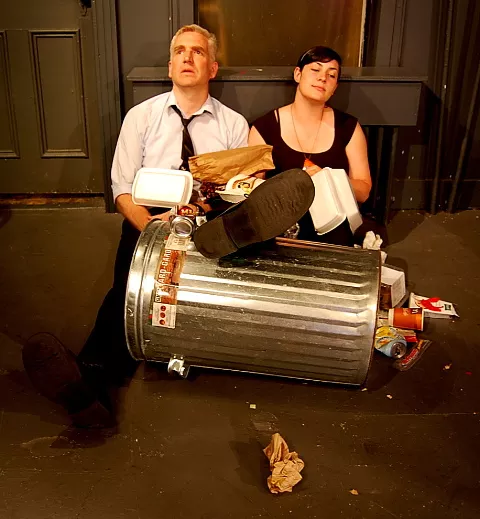 Heather Watts
Shawn Duggan as Ray and Kathryn McCormack as Una in Blackbird.
British playwright David Harrower's Blackbird was on Richie Wilcox's wishlist, so he jumped at the chance to return to Halifax to direct the play for Angels & Heroes Theatre Company, opening August 9 at the The Living Room (2353 Agricola Street).
"I'm a fan of darker, grittier scripts that push the boundaries," says Wilcox, a founding member of A&H, who now lives in Toronto while working on his PhD—he has his masters in theatre directing from Texas State University. He's a big fan of British playwrights, who don't shy away from "in-your-face theatre." Wilcox is all for tackling issues on stage—anyone who saw A&H's memorable Fewer Emergencies in 2008, starring Garry Williams, Ann Doyle and Stewart Legere—can attest to that fact.
Blackbird, which features Shawn Duggan, Kathryn McCormack and Clara Bullock, is the story of a couple who meet again after a forbidden relationship that took place 15 years ago. "We all have someone who haunts us every day of our life that we can't escape," says Wilcox. Given the nature of the script and the issues that it dives into, Wilcox says it's an extremely intimate script for the performers. "It's hard to get rid of," he says. "It seeps into friendships and relationships, and makes you uncomfortable." Rest assured though, Wilcox says there's dark humour keeping it all afloat.
Once the run is over, Wilcox will head back to Toronto, but look for him next summer assistant directing alongside Daniel MacIvor.
Blackbird runs August 10-15, 8pm, with a pay-what-you-can on August 9 and a 2pm matinee on August 15. Tickets are $10; reserve ahead by calling 223-5371.