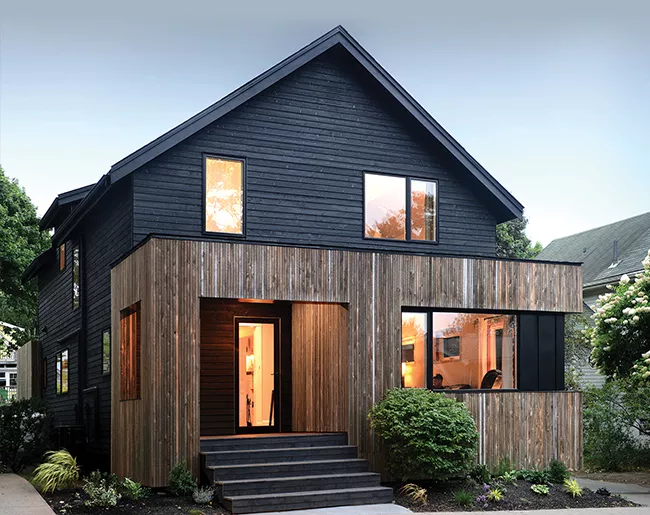 When Stefan and Breanna Bolduc snapped up their west end home, it was far from the modern study in clean lines that it is today.
"I don't know why we went the direction we did, exactly, we just knew we wanted either an all-white or an all-black house," Stefan says, laughing. With a family-friendly neighbourhood, they decided to take the house "basically back to the sheeting" and re-imagine it in an aesthetic that was more their taste.
"We didn't just start from scratch mostly because of cost," but also because the house had good bones, says Bolduc, who enlisted designer Peter Braithwaite to make the vision come to life.
An all-black, angular space softened by what Bolduc affectionately calls "the wooden bump on the front," this stunner proves a strong case for going with your gut. Here's a break down of what made this home an ebony castle.
1 The architects urged Bolduc to soften his all-black vision with some wood, and now he says it's his favourite element of the exterior.
2 Braithwaite adds that since the Bolducs are very social, it was important to design a "place to gather." Neighbours appeared with beers before the arch was even fully finished. "It was great to see it accepted so immediately by the neighbourhood."
3 The architects took time to create fluid sight lines, which Bolduc credits with making the home feel finished.
4 "People ask if we got an addition," Bolduc says, but the porch's slight side build-out keeps the different textures from being too stark.
5 "There was an emphasis on being contextual," Braithwaite says about the project. They kept the house's form mostly intact, he adds, so it would fit in with the area. Then, they played with modern supplies to update the structure.
1 The attention to detail is not lost on Bolduc, who says he "watched the guys rip a whole beam off" when they couldn't get all the nails to perfectly line up.
2 "Black is maybe a little aggressive for some people but it's something I like to see," Bolduc says, calling it a refreshing change from more common greys and charcoals. "It disappears yet draws the eye at the same time."
3 A small "storage locker" was added on the back porch as a one-two hit of extra storage and a dramatic finish to the terrace.
4 "We spend a lot of time outside," Bolduc adds. Making the back deck low and spacious was key to accommodating their children and neighbourhood kids.