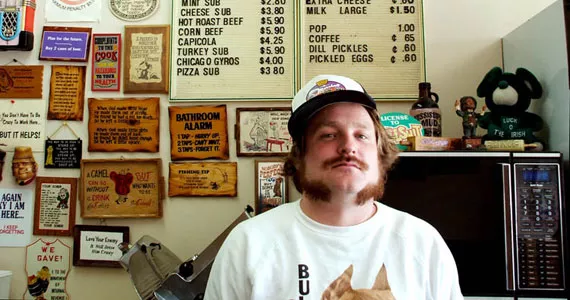 B.A. Johnston is ageless. Ask the Hamilton-raised singer-songwriter how old he'll be turning the week before his birthday and he'll likely tell you he's 38. But the Internet tells a different story. On Twitter, he's 42. On Facebook, it's 50.
No matter his age, Johnston (real name Christian Johnston) has grown over years of performing Canada's never-ending touring treadmill to become one of our country's hidden treasures; a saner version of Daniel Johnston with a somewhat sporadically relentless work ethic.
What's the secret to touring into old age? "It's like believing in an illusionist. You have too fool yourself," he says. "Because I don't think I am well."
This Saturday, Johnston returns to "one of his many second homes" for the now annual weekend long celebration of his birthday at Gus' Pub. With support from his favourite Halifax bands, Johnston continues to outdo himself, offering a nightly "bacon draw" for guests where he'll be raffling off a number of packages of pork from the Masstown Market.
And if you'd like to get him a present, he has a couple of suggestions.
"I'm still trying to find this game called Shark Shark for Intellivision," he says. "A bathtub full of donair sauce would be good too."
Following his birthday bash, Johnston plans to continue touring North America into early spring, when he'll finally return home to finish up his Canadiana-inspired Mission Accomplished, the follow up to 2012's Hi Dudes!
That is, if he feels like it. "There's a schtick about it, but I am very lazy," he says.
---
BA Johnston's Birthday Bash
w/Mike O'Neill, Wet Denim, Astral Gunk, Outtacontroller
Moon at Gus' Pub, 2605 Agricola Street
Friday, January 18, 10pm
$3 before 10pm, $8 after
w/Bad Vibrations, Toledo, Dyscontrol
Moon at Gus' Pub, 2605 Agricola Street
Saturday, January 19, 10pm
$3 before 10pm, $8 after