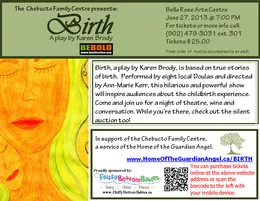 Eleven women shared the stage last night at the Bella Rose for a fundraising performance of Birth by Karen Brody. These women were not professional actors, but rather a cast made up of talented local Doulas (Women who assist in childbirth by providing emotional support and physical comfort to the mother).
The play is documentary-style, and focuses on the real-life stories of American women who have fought, both successfully and unsuccessfully, for a satisfying birth experience in our highly medicalized society.
The material is funny, gripping and moving. There are stories of women who have basically been brutalized and infantilized by a medical system focused on birth on a time table. There are stories of women who find the support and love they need to birth as their bodies demand. There are stories about women who have been empowered by the act of giving birth.
The script requires an immense amount of bravery — for instance, it's no easy feat to mimic the primal groans of a woman in labour —but this cast delivers.
Each woman plays multiple roles, from doctors to bemused husbands to concerned family members, and under Ann-Marie Kerr's fine direction, the stories and characters are both beautifully delineated and pleasingly inter-connected.
Several times during this play, I found myself wiping tears from my cheeks. I think this speaks volumes to the power of this play, these performances and of birth itself.