June 4 Day 35
Fessenden to east of Cathay, North Dakota
23 miles (37 kms)
Lovely day despite my starting out bitchy. Near Cathay a dog follows me for three miles, having the time of her life—in muck, then grass, sniffing into the wind. It gets to be worrisome so I stop at Cathay and rap on doors until I get an answer. Lucy's name and phone number are on her tag so she ends up getting a ride home and I go on more miles and camp beside a giant cultivator on a farmer's lawn. Lawn is much better than wild, longer grass because fewer ticks live there. Those little creeps latch on to you for dear life. Luckily, I was some time ago attracted to a set of two green plastic tick removers that look like a small and a tiny crowbar. These were in the dog place around the corner from jane's on the common in Halifax. Handy little tools for removing the little pests.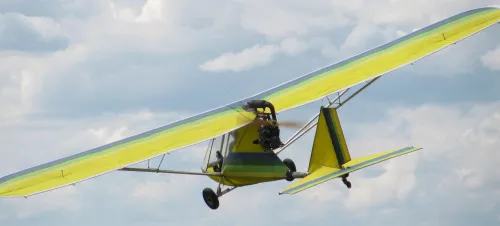 June 5 Day 36
East of Cathay to McHenry, North Dakota
22.5 miles (36.21 kms) plus 13 mile (20.92 kms) ride

I am buzzed by an ultra light aircraft. Jim Skadberg stops twice in his pickup to say hello and then later I hear a buzz behind me and it is Jim, aloft in his single seat
Birdman Chinook
(made in Edmonton, doncha know) and he swoops by me, goes around and then lands beside me in a field. Later on the clouds are dark. I stop into a farm for water and Gilbert Black has just finished what he can do for the day and offers a lift to McHenry. The water he brings me is ice cold and his wife gives me a hunk of watermelon. Bliss. In McHenry everyone's yard is nicely mowed, right up to the street—no curbs or pavement. Even the quiet, weathering abandoned houses siton skirts of mowed grass, silent grannies. A musician has bought the old McHenry High School and lives there now with a recording studio. Must google this. The café is open and big inside; four tables are occupied by elderly couples and foursomes; they're all eating something that looks big and delicious. It's tonight's special—Hot Beef Sandwich and then ice cream. $6.50. Yum. It's my birthday (56), so it's double happiness to be scarfing down gravy, etc. Later I am camped on soft grass in the (lovely) town park, complete with vault toilet in which I shall take cover if the weather turns nasty.
June 6 Day 37
McHenry to Binford, North Dakota
12.96 miles (20.86 kms)
Day 37
Elevators in Binford, ND
I decide in advance this will be a short and sweet day and it works out great. The walk to Binford goes by very quickly and in the really nice town park is plenty of space—well, I'm the only one camping here—plus a shower (!) and enclosed toilet. Picnic tables also have protection from the elements. And I can plug in the computer. I cook noodles and shower and laze around in flip-flops. On Main Street (where absolutely nothing is open) I meet two cyclists; they have discovered a WIFI spot so I am able to crouch on a stoop and check my mail.
My plan is to hitch into Cooperstown tomorrow to visit the two missile sites, come back here for another night and then head north and east towards Minnesota.
Later twp people come walking in the park. Magnhild and Fred don't recognize me and thus need to know who the heck I am. Fred is 72 and wearing an aerated ball cap labeled Crystal Beet Seed; Magnhild is 59 and decked out in plastic turquoise. They think Obama is ruining the country. They rent out their farm now and moved into Binford two years ago. I mention Gilbert Black from yesterday; they know him well. They insist on taking me to supper at the Red Willow Resort, which is also a Bible Camp. Stupid me doesn't take the camera.
Because RWR is a place out of the selective memories or imaginations everyone has, of a simpler time when there were so many more things easily seen as good and we were all younger and could pester our parents for souvenirs and french fries. It is on a placid lake. There are cabins some families have been renting every summer for forty years. The buildings are sheltered by big old trees and painted old egg yolk yellow, which looks lovely with the red, white and blue of the buntings hung around. One building is the old roller skating rink where all the teenagers used to go on the weekends. Magnhild and Fred went there when they were young. It is very peaceful. Cars and trucks are parked under the trees outside the restaurant and inside at high gloss picnic tables painted in Laura Secord After Dinner Mint colours farm families are chowing into burgers and chicken baskets and Philly Steak sandwiches, slurping Cokes and milkshakes. Gilbert Black and his wife are there. The rafters are strung with plastic blow-up animals and there are T-shirts and caps, cups and candy and knick knacks for sale. Signs handwritten in acute female cursive thank the Lord for the ambience. Two other farm couples, friends of Magnhild and Fred, sit at our table and they are all yakking about kids and medical tests and the weather. Olga Knudson is wearing a skirt and cowboy sweater. Arthur Knudson is 88 and very handsome. He's a joker and he and I go at it, speculating on whether his only unmarried son, Ardell, (who is also 56 and never married) and I would be a good match and we have the rest of the table laughing. Later, when the others are chatting he tells me about how he had two nervous breakdowns as a young man and ended up in hospital both times but then he saw Jesus one day and he's been fine ever since. Later in the car on the way back to Binford, Hormuld says, "Arthur is family and we love him, but we also say Olga's a saint!"
The people I meet here are people of place. They walk into the same kitchen their grandparents did. They see the same roll of the land they did as children. They know the same people all there lives. The old stores remain, just closed down and painted names fading.