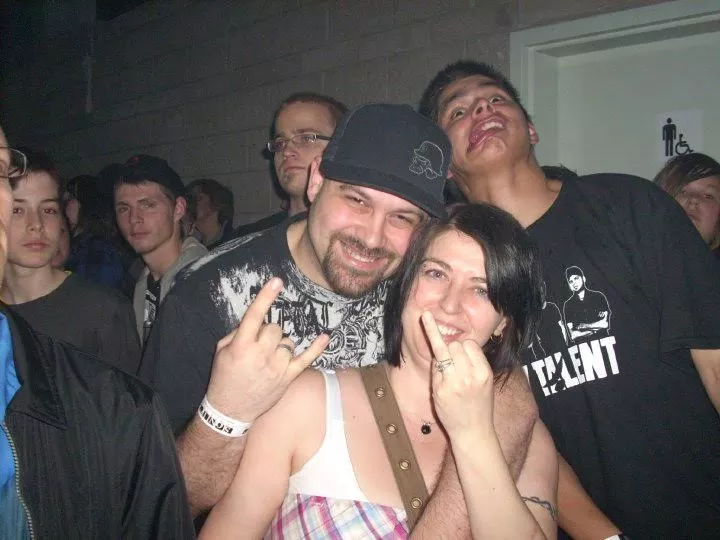 You know how people always say "when hell freezes over I will do such and such," well, that kind of happened to us in a manner of speaking.
I had been dating my best friend for about two years and I felt the time was right to ask her to marry me. She was never the kind of girl who was all about weddings, I had to convince her to get married. We both love music and going to concerts—it was our thing. We also both love Billy Talent—we had seen them several times. And because they were coming to Halifax again, I decided that would be a great place to propose.
The day of the show was getting closer and I was worried that she was onto my plan. I started to panic. I was unable to get permission to propose on stage, and in all fairness she would have killed me, so it worked out for the best.
We were right up front when our song—"Devil On My Shoulder"—came on, and security happily allowed me into the pit so I could get down on one knee and ask her to marry me. And what do you know, she said yes. Our proposal picture was photo bombed by the guy on the left which is appropriate since we were in the middle of a rock concert.
As we left the show, it was unusual to see a fresh covering of snow because it was April 15, 2010. When we called our parents Chandrae said, "Look mom, hell really did freeze over, I'm getting married."
We have been married almost six years now and could not be happier. Every time Billy Talent comes to town we go—that's our band and always will be. When I hear one of their songs, I think how lucky I am that she said yes.
photos by Chandrae Bailey of Chanee B's Photography, words by Jason Francis