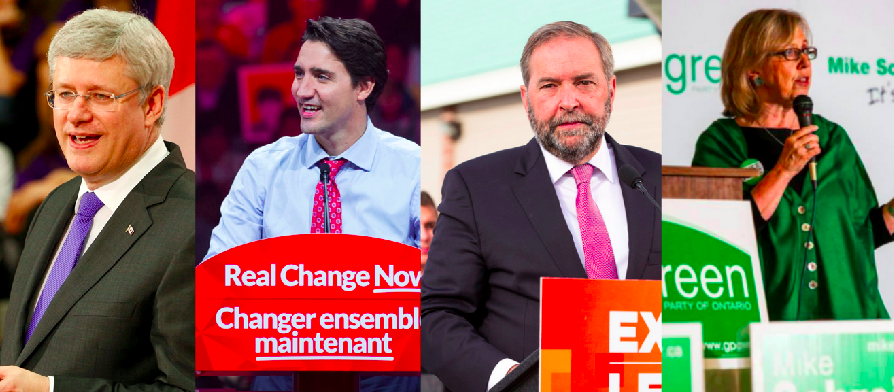 NDP
The NDP are promising four years of balanced budgets. They want to raise corporate taxes to 17 percent and invest $100 million annually to create 40,000 jobs, paid internship and co-op placements for youth. One of their biggest platform points is imposing a $15 an hour minimum wage, but this would only apply to federally-regulated jobs.
The NDP also want to help bring more women into the workforce, and plan to create a national child-care program. This would create one million child-care spaces over eight years and cap fees for parents at $15 a day.
Leader Thomas Mulcair wants to abolish the Senate, but this would mean talks with the provinces. He also plans to end the bombing campaign against ISIL and remove all military personnel from Iraq and Syria, along with bringing in 10,000 Syrian refugees by the end of the year.
The NDP would also repeal Bill C-51 and restore the $115 million cuts to the CBC. They plan to launch a national cap-and-trade system to combat greenhouse gas emissions and crack down on heavy polluters, as well as eliminate federal student loan interest and add $250 million to federal student grants.
The NDP have also promised to launch a national inquiry into missing and murdered aboriginal women and increase opportunities for First Nations, Inuit and Métis communities. Finally, they plan to hire 7,000 more health care professionals, open 200 new health clinics and make prescriptions more affordable.
LIBERAL
The Liberals are the only party planning not to balance the books, and instead want to boost the economy by running three years of "modest" deficits and increase infrastructure spending. They plan to cut the middle-class income bracket by seven percent and create a new tax bracket for incomes over $200,000.
Leader Justin Trudeau is promising to legalize marijuana and allow it to be taxed and sold in approved outlets. He also plans to amend Bill C-51 by limiting personal data sharing and revoking CSIS's power to break the law to disrupt suspected terrorists.

The Liberals also plan to invest $3 billion over four years to improve home care services and reduce prescription medication costs. They want to end the bombing campaign in Iraq and Syria but keep military personnel in Iraq for humanitarian aid, as well as increase the refugee intake to 25,000.

Trudeau wants to spend $900 million over four years for First Nations education and call a national inquiry into murdered and missing aboriginal women. He plans to phase out subsidies to the fossil fuel industry and introduce national emissions reduction targets. Finally, Trudeau plans to invest $150 million in annual funding for the CBC and double investments to the Canada Council for the Arts.
CONSERVATIVE
The Conservatives want to continue balancing the budget along with reducing the small-business tax rate to nine percent. They also want to increase and extend the apprenticeship job creation tax credit and implement a permanent home renovation tax credit to help establish 700,000 new homeowners.

Prime minister Stephen Harper plans to continue the mission against ISIL send CF-18 fighter jets to Iraq and Syria and bring in an additional 10,000 refugees. He also plans to invest $292 million over five years to combat terrorism. Harper wants to move to a low-carbon economy by 2050 and eliminate the use of fossil fuels by the end of the century. He will continue with plans to the proposed Keystone XL pipeline.
The Conservatives promise to provide $65 million over four years to allow post-secondary institutions to better align curricula with employers' needs and double the RESP grant for low- and middle-income families. They also promise to spend $500 million to improve schools on reserves. Under the Conservatives an additional $4.5 million annually will go to help crack down on marijuana grow-ops and drug labs. Finally, they will reintroduce and adopt legislation banning face coverings during citizenship oaths and establish a tip line for "barbaric cultural practices." 

GREEN
The Green Party plan to establish a climate and energy plan that introduces carbon pricing to reduce fossil fuel, protect coastal waters from pipelines and tankers, as well as invest in green jobs and clean energy. They plan to create a national sustainable jobs plan that invests in well-paying, long-term, local jobs. 


Leader Elizabeth May promises to abolish tuition fees for college, university and skills-training programs and eliminate student loan interest and existing student debt above $10,000. She wants to refocus Canada's defence policy from war missions to peacekeeping and immediately repeal Bill C-51.

The Green Party also plans to reverse the CBC funding cuts as well as invest an additional $168 million to the CBC in the first year and $315 million every year afterwards. May promises to cover prescription medication for all Canadians and include dental coverage in public health care for low-income youth.

As well, the Green Party plans to launch a national inquiry into missing and murdered indigenous women and provide funding for cultural education in traditional First Nations languages. They also want to invest $600 million in Via Rail and restore rail service to all major regional cities.

Finally, May plans to reverse the cuts to Canada Post's home delivery and to Veterans Affairs, along with reopening the nine closed Veterans Affairs offices.