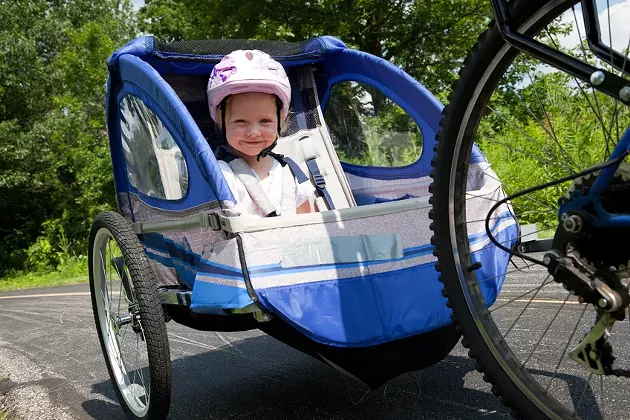 UPDATE: According to its Twitter account, Halifax Transit has altered its plans and cyclists towing child trailers "MAY" board ferries until further notice. Two-wheeled electric scooters are still banned. An updated announcement is scheduled for Wednesday.
"Transit will work with stakeholders and community to develop other solutions that meet regulations and are safe for all passengers," the transit authority writes. "We regret any inconvenience or concern this announcement may have caused for any of our passengers."
———
Halifax Transit has outlawed bicycle trailers of any kind on its harbour ferries, effective immediately.
Any trailer, including the child/grocery/dog-carrying kind, is banned from boarding the ferries, along with any two-wheeled electric scooters (gas-powered scooters were already not permitted).
The rule change came about "due to concerns for passenger safety and inadequate storage," according to a press release. New HRM spokesperson Adam Richardson says the vehicles recently became a problem due to the Big Lift bridge redecking.
"Initially, people were trying to use the ferry when the Macdonald Bridge was closed to avoid going around to the MacKay Bridge," writes Richardson in an email. "Now they are using the ferry system with these vehicles."
That's caused Halifax Transit to become "increasingly aware" of the safety issues the vehicles create, and that—along with some complaints from other passengers—created the ban.
"If both parents are present and the trailer is decoupled from the bike, staff could consider permitting them..."

tweet this
"The length of these trailers limits their maneuverability inside the ferry," writes Richardson, who adds that Halifax Transit may "consider a refinement" to the new policy allowing passengers with young children to ride the ferry if they decouple their trailer firsts. So long as that doesn't "present a cumbersome situation," he says.
"If both parents are present and the trailer is decoupled from the bike, staff could consider permitting them past the gate."
Until then, as the Big Lift is still ongoing, the only way across the harbour with a bike trailer is a 40 kilometre ride around the Bedford Basin.
Electric bikes and Segways are still permitted on the ferries, but must not "block access" to the loading doors or impede passengers.
"Passengers with bicycles or Segways are asked to be courteous and allow other passengers to board or depart the ferry first," reads today's press release.
The Halifax Cycling Coalition, meanwhile, says it's reached out for more information from Halifax Transit.
"We are extremely disappointed with the the news that bicycles with trailers of any kind are not permitted on Halifax Transit ferries," coalition member Kelsey Lane writes to The Coast over email.
"The prohibition is a significant barrier to the Halifax/Dartmouth connection. The city should be eliminating not introducing barriers to active transportation in order to encourage cycling and other heathy modes of transportation. People who ride a bicycle are still unable to use the McDonald Bridge while it is under construction. The Big Lift shuttle does not accommodate bike trailers or strollers, and therefore this ruling to ban bicycle trailers from the Halifax Transit ferries has severed the Halifax/Dartmouth connection for the many people who use a bike with a trailer. The reasoning for this change is unclear however the negative implications of such the decision to people who ride bicycles is obvious."