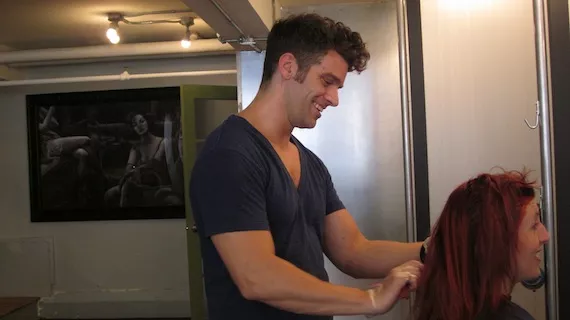 Tucked away on a downtown corner,
BH2 Salon
(5189 Sackville Street, 406-3131) might be a little hard to find. But this barber shop is definitely worth the search. While many salons advertise the trendiest cuts and styles,
Brian Hart
, owner and stylist, is determined to find the cut that's most you. No wonder their motto is "no haircut should be the same."
"There are different types of hair, different shapes of faces, not to mention lifestyles. For example," Hart explains, "moms that have five minutes in the morning to deal with their hair, or busy working people. Our job is to create a unique look for each person---a prescription haircut if you will, that gives the person the most versatility.  From classics to glamour to street, we like to create it all if it is what works for that client."
Even when he first started apprenticing in salons at the age of 16, Hart understood how crucial it is for people to feel individual and true to themselves. That's why along with cuts, styling, updos, and high-lighting, he offers something called Global Colour.
This process is like taking your dream hair colour and turning it into your real hair colour. Just like how natural hair colour differs from root to tip, those who wish to dye their hair will discover if they ask for Global Colour, the colour's tone, depth and intensity vary depending on the colour's shade, type of hair, and hair style. "If the client likes a street or "funky" colour, its about keeping it balanced and making sure that your emphasising the dramatic "moments" in the hairstyle," says Hart. "Its about seeing the whole picture - cut, texture; taking it all into consideration everything about the person and their hair to get it right."
For Hart, getting it right doesn't just mean creating the perfect hairdo. He consults with his clients on how to maintain that healthy shine in their hair and how to easily style it by themselves at home. This step is as important to him as the styling; it's his goal to bring out the best of people to the surface where others can see. "I was just always amazed by seeing someone be totally transformed," he says. "Now, I'm not just talking about hair. It's an entire picture. When you see someone gain confidence, have excitement and feel a transformation…That's what this work is about; connecting people's feelings to their image, helping them grow and be inspired."