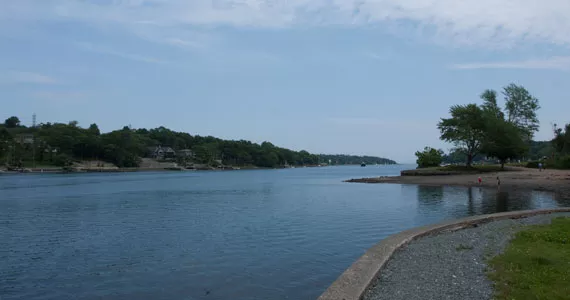 Well, there'll be those folks who believe the Halifax Citadel National Historic Site is the place with the best view. It's a political hot button---the viewplane from the top of the drumlin to the waters of the harbour---so much so that the height of construction downtown must take into account how much of the harbour might potentially be obscured.
We're not here to cast aspersions on the importance of the view from Citadel Hill.
There's also a case to be made that the view from Aliant Building at the bottom of Spring Garden Road is the best in town. The glass elevators that shoot up both side of the building---built on a diagonal in the 1970s in order to minimize blocking the view of the harbour from Citadel Hill, as it happens---can afford anyone on them a great look at the harbour and Dartmouth on one side and the south end on the other. The view from those elevators is one of the few saving graces of that concrete monstrosity.
But we're not trying to get into name-calling with any downtown edifices.
We're here to say the view from The Dingle in Sir Stanford Fleming Park is the best. The 99-year-old 10-storey tower may not be as centrally located as the Aliant Building or have the historical significance of the Citadel, but the reward for walking up all those steps is breathtaking.
(Unfortunately, the tower is being renovated, preparing for its centenary, so that view is denied the public until 2012.)