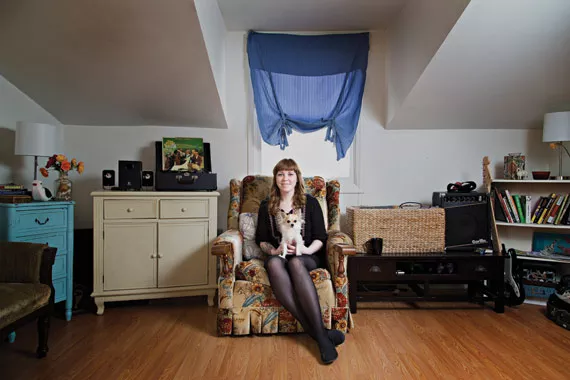 Stephanie Muise & Charlie
Cuddles, sleep and admiring pizza are six-year-old long-haired chihuahua Charlie's fav pastimes. While he's not a big fan of other dogs (mostly out of fear, Muise says), Charlie is a big people-pleaser. He's warm, fuzzy and "so loving." One time Charlie found a discarded Wendy's chilli bowl in the garbage and "was licking it clean and it got stuck on his head," but just for a second, says Muise. "It was so cute, though. He looked like Buckethead, but less creepy." Check out more of Charlie on Instagram @charlieeechi.
---
Nora Conboy and Tuna
A four-year-old medium-haired barn cat, Tuna has been in Nora Conboy's life since she was a kitten. Neglected, nearly blind and flea-infested, Tuna was rescued by a vet clinic and taken in by Conboy. Because of Tuna's rough childhood she lacks some key cat "instincts," says Conboy. "She has horrible depth perception and cannot land on her feet. She has no idea how to cover her litter or meow." Still, it sounds like the "incredibly sassy" Tuna is living the good life. "She likes to act like she has lots of important business to attend to but really she just sleeps all day."
---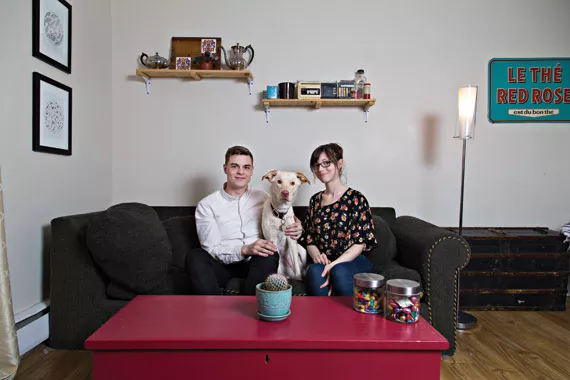 Brian Jean and Liz Lee & Nico
A chocolate lab and husky mix, Nico turned three in November. She came into Brian and Liz's lives quite suddenly, when a friend showed up at their door holding a puppy wrapped in a blanket. "You can't say no to a puppy in a blanket late at night," says Lee. Nico's current favourite activities include swimming, running and going in between your legs and getting her butt scratched. "Nico hates it when people run towards her," says Jean. "She also hates getting her harness put on her, but she loves going on walks, so that doesn't make a lot of sense, really."
---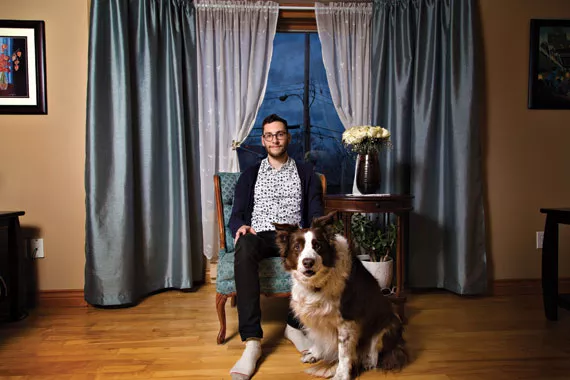 Peter Osmond & Molly
Molly lives to play ball. For years, says owner Peter Osmond, she would constantly harass any visitor to the family home, "shoving a dirty, saliva-covered tennis ball in their lap, and nudging it closer and closer if ignored." Ball was Molly's life for every waking hour of her first decade before the 13-year-old border collie's health started to deteriorate. Age, though, is just a number for best friends. "When I would come home from school Molly would be overjoyed to see me and jump all over me, like something out of Calvin and Hobbes," Osmond says. "The unconditional love of a pet is a joy that can't be replicated."
---
Mason Baker & Gracie
Part Labrador Retriever, Gracie was born on Christmas Day in 2011. Mason Baker adopted her at seven weeks old and Gracie's been chasing pigeons and hating being brushed ever since. "She's really starved for attention pretty constantly, and loves having her paw held," Baker says. "She would hangout with you all night if you just held her paw and gave her some belly rubs." Gracie, in fact, looks after Baker as much as the other way around. "I had an operation and was laid up for a bit, and she never really left my bed with me, and was just extra affectionate the entire time."
---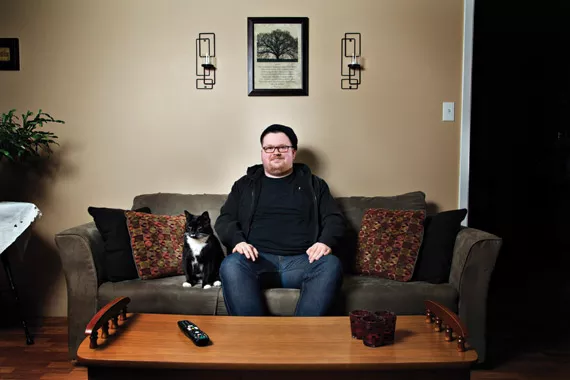 Calvin Monaghan and Louie
A 14-year-old American short hair, Louie spent his youthful days chasing birds, climbing trees and sleeping. These days, he's mostly just into the sleeping. Monaghan says Louie is always happy to see him and incredibly relaxed at all times—except if someone sneezes. "Louie will lose his mind if I or someone else sneezes," says Monaghan. "That's the only thing I've ever seen truly work him up." Being there through all the hard times of Monaghan's teenage and young adult years, Louie has been a constant companion. "I will never forget the power behind his head-butts."