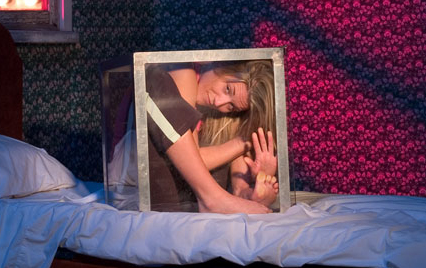 Sydney, Australia's Bendy Em (AKA Em Kerger) contortionist-meets-comedy show is one of the featured acts at this year's Halifax International Busker Festival, July 30 to August 4 on the Halifax Waterfront, schedule online at buskers.ca—don't get it twisted, it'll be a ball.
Bendy Em went from business degree to street performer after she found a way to put her gymnastics training to good use. In her show, one of 15 acts at this year's festival, she ties herself into knots so complicated it'll make your shoulders hurt in sympathy, and as a grand finale, she squeezes into a 16" plexiglass box.
To prepare for such a taxing show, Bendy Em spends a lot of time running on the beach back home, lifting weights, and, not surprisingly, practicing yoga. While on the road hitting the festival circuit, there's a little less training going on, instead Em catches up with some old busking pals. She says there's a camaraderie between performers that makes them like an extended family. This year, out of 15 featured acts, there are only three acts featuring female performers at the Halifax International Busker Festival—are the disciplines of juggling, fire-twirling, contortion, acrobatics, miming, illusion and stunt pogo tricks male-dominated?
"There are definitely less women in this game than men," says Em. "Sometimes it can feel like a boys' club especially if there are only a couple of female acts at a festival. I'm finding more and more though festival organizers are bringing in more women—if not solo then those in double acts and group acts. I honestly love having more female energy at a festival, it's better for everyone. We're quite a tight community worldwide and us girls do stick together. I've met some of my best friends from doing this. I haven't seen the Flame Oz girls for three years and this year we have three festivals together in Canada, it's great."
Bendy Em's positivity is contagious, even if her back-bending ability is not. "I love to make people laugh and smile and hopefully inspire them to also follow their dreams." If your dream is cramming into a plexiglass box, this might be the kick in the pants you need.