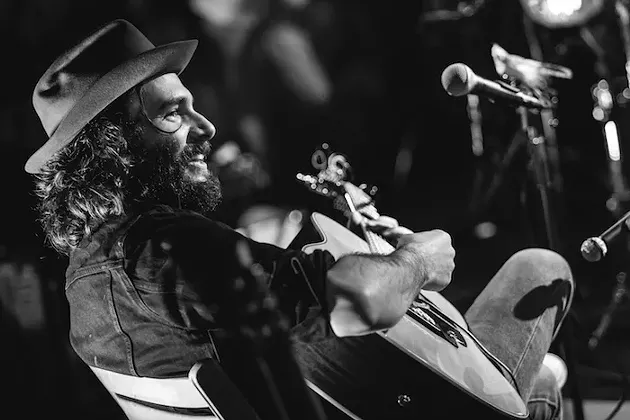 A
dam Baldwin was nervous about his headlining slot at The Marquee Ballroom on October 5: "I had been asking about ticket sales up to a couple days before," he confesses, speaking by phone. "I made a decision to not look up at the crowd until I got right to the mic."
He needn't have worried—the 800-person venue was, if not at capacity, at least close. By the time he was two tracks deep, Baldwin sheepishly told the crowd "Well I really just gotta thank you all for being here, you have no idea what it means,"—clearly grasping for a word to convey the emotion in the room. He reached for the perfect adjective, but the crowd roared over him in applause.
He could've said almost anything and they'd have clapped their hands off.
What followed was a tight set that left room for all members of his band—including guest spots from Mo Kenney and Victoria Cameron—to shine. (Baldwin probably refuses to allow anyone to be relegated to the sidelines in equal parts because of his reverence for the E Street Band and having backed Matt Mays on guitar since day one.)
Here, Baldwin breaks down the winning setlist that steered them along: "There has to be a flow, like a movie: Act one, then act two to bring things down a bit and then act three, to bring as much excitement back into the crowd as possible. It's the sort of thing I learned from burning CDs and playing with Matt [Mays]."
1. Intro song: "No Tellin' When" from 2016's No Tellin' When
"Every show since we put that record out, we've started with that song. It opens the record and it always feels like the best way in. Ya know, old habits die hard."
2. Songs four through seven: "Delirious," "Half A Mind," "No Rest for the Wicked" and "Dark Beside the Dawn" (which, according to the guitarist's setlist, were all to be played on a Stratocaster)
"All those songs are from [the 2019 EP]
No Rest For The Wicked
. I just sort of felt like, there's very much a theme and I didn't wanna scatter them: It'd be like reading chapter two, chapter three and then chapter 14. That EP has its own story. A lot of my songs are a bit of a drag—I say that in jest. But I bring folks outta the sadness. People like different kinds of rock shows and mine's different from Matt Mays'," Baldwin explains.
At Saturday's show, he even warned the crowd: "We're gonna go somewhere dark here in a minute, but I'm gonna pull you out of it," he said, leaning on the mic stand as "Delirious" opened in the background.
3. Song nine: A yet-to-be-released track
"I don't know the name of that song yet—I've been calling it "The Ballad of Ezekiel and The Mountie" but that's a hell of a mouthful. I wrote it about my father and my sister's husband. I wanted to try it out and I wanted one more song in the lull of the set—it felt like I worked it out with [my band]."
"I'm a bar band guy: That's the stuff I like to do, play some ol' three-chord bar song that's fun to play, that people can shake their asses to a little bit. "

tweet this
4. Set closing song: "Bonnie Raitt," from 2013's Adam Baldwin
"I'm a bar band guy: That's the stuff I like to do, play some ol' three-chord bar song that's fun to play, that people can shake their asses to a little bit. [This song] is supposed to be about as good as anyone can feel in my sets."
5. The third song in his encore, Bob Dylan's "License to Kill" from 1983's Infidels
Baldwin kicked off this cover by saying he'd been "feeling awfully inspired lately by a 14-year-old girl from Sweden, and this one goes out to her, out to Greta."
When asked about the choice, he says: "I so admire anybody that dedicates themselves to saving this big ball of rock we're on. I chose that song because the lyrics spell it out to me: It goes 'Man thinks 'cause he rules the earth he can do with it as he please…Oh, man has invented his doom/First step was touching the moon/Now, there's a woman on my block/She just sit there as the night grows still/She say who gonna take away his license to kill?'—that just reminds me of her, of Greta...Maybe it's time for the bonehead white guys to step the fuck aside. I love the sentiment of it."