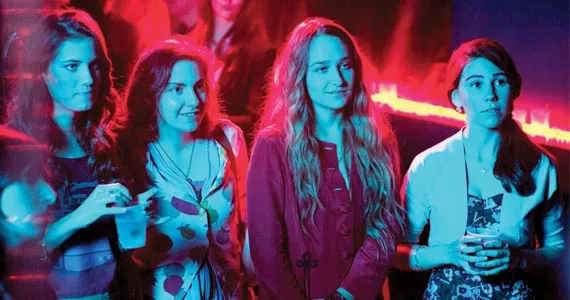 I'm a goddess in your eyes and I will never die
I was born of people's needs
And what they don't wanna believe
But I am a liar, that's the truth
Go home and
Think it through
That's the harm in mystery
All you know is what you see
Juliana Hatfield, "I Got No Idols"
from Become What You Are (1993)
"I have work, and then I have a dinner thing, and then I am busy. Trying to become who I am."
The thesis statement of Girls comes three minutes into the pilot, three minutes after Hannah Horvath has been cut off by her parents. She's two years out of college, a year into an internship and they've been supporting her all the while. No more.
"We can't keep bankrolling your groovy lifestyle," says her mother.
"I'm just saying that I am so close to the life that I want," Hannah protests, balking at the term "groovy," "the life that you want for me, that for you to just end that right now?"
"No. More. Money."
Most of you are a few years out from this situation---or if you're like me it's an American television thing completely foreign to you; every time I watch The Cosby Show I resist the urge to call up my Dad and scream "WHERE WAS MY COLLEGE FUND?!"---but Girls could be considered a post-post-secondary warning to all of you.
Created by Lena Dunham, who in Hollywood terms is an auteur and in life terms is a wunderkind---you can't be Lena Dunham, she's already become who she is, sorry---Girls is a comedy that follows the mostly post-collegiate life of four young women in New York. (It's a quarter-life coming-of-age fable, in many ways.) Dunham, who wrote and directed half of the episode run, is Hannah, our protagonist/hero/tragicomic figure. Her best friend and roommate is the uptight Marnie (Allison Williams), the only steadily employed Girl. Their friend Jessa (Jemima Kirke) is a free spirit of the British variety who's crashing with her desperately uncool cousin Shoshanna (Zosia Mamet), the only Girl still in school, living in a terrifying Sex and the City-ized fantasy world footed by her parents ("$2,100 is, like, so good for Nolita").
In Girls there are good and bad boyfriends, good and bad sex, sexually aggressive bosses, firings, internships, loft parties, crappy drugs, pretentious artists, same-sex experimenting, suits with too much money, mid-night bike rides, materials salvaging, gay exes and trips home.
On the television show, it's all happening in New York, but guess what? It all happens here too. All of it.
When Girls premiered in the spring, a certain corner of the internet---the over-educated, indie-rock-loving, politically correct, "male feminist" one---nearly collapsed on itself writing thinkpieces and finger-waggers about how everyone on the show was the daughter of someone mildly famous, from a third-tier rock drummer to NBC newsdude Brian Williams; that the four leads are white and thus not reflective of the true New York City.
The nepotism is easily dismissible---it's Hollywood, what else you got? The diversity issue is valid, but you could say the same of most shows, from Two and a Half Men to Seinfeld, or go the other way and point out actively racist series like 2 Broke Girls and American Horror Story.
What the criticism was/is really about is Lena Dunham. She was 23 when her second (!) feature Tiny Furniture splashed into the Sundance Film Festival in 2010, which made her a showrunner at 24, when Judd Apatow of all people put his name to Girls and helped it get a series order at HBO. You know what this generation covets more than any other, even the dot-com era? Early success. You know what this generation fucking hates more than any other? Early success. And a 24-year-old privileged woman from New York who is chubby and the daughter of moderately known visual artists? Fuck her.
As Hannah asserts in the the pilot: "I think I may be the voice of my generation. [pause] Or a voice of a generation."
Dunham probably wouldn't admit to this as an honest thought---she goes out of her way to project an air of down-to-earth humility; she is no dummy---but the 10 episodes of Girls' first season demonstrate a sharp, insightful, funny voice that gained strength and structure with each subsequent 21-minute block.
She is a voice of her generation, a generation that's overqualified and underprepared, easy to mock even as it's painfully sincere, one being handed a world on fire and nothing to fight it with.
The voice? Only time can determine that.
Lena Dunham is acting, writing, directing proof that there are great rewards to being brave (OK, and funded) and creative and speaking from and with your heart, to developing your own voice and opinions and using them for good.
At the end of the Girls pilot, Hannah wakes up in her departed parents' hotel room. She hasn't convinced them to turn the money back on. She accidentally quit her internship. She has two weeks to come up with rent.
These are things that will happen to you--- it's a struggle that feels insurmountable, and that's without homework and exams and labs on top of your life. But it's important to remember---and hold onto, and you will need to---the fundamental and frivolous things that pushed you into school in the first place: friends, skills, fun, art, music, love, fashion, cause, effect.
Hannah steals the maid's gratuity and sullenly walks out into the Manhattan day, passing a man who yells at her to try smiling. "Does your heart hurt?" he asks. We all know the answer.
Not everyone can have a TV show, but everyone can stay busy trying to become who they are. It's the most valid thing you can learn. Now go to your dinner thing.
Take a look and see
How alone and free
Anyone can be
Just never let 'em
See you sweat
Little pieces, all they get
Juliana Hatfield, "Little Pieces" from Become What You Are (1993)