Lined up end to end, Duane Linklater's five-part neon series "Tautology" could be at home among the bright lights in Times Square, but the Omushkego Cree artist's work is more an urban reflection of Canadian identity than anything, subverting a medium usually reserved for advertisement or signage with a thunderbird directly appropriated from the Norval Morisseau painting "Androgyny" that hangs in the Governor General's house. It's "in a room where Canadian identity is affirmed and celebrated," says Linklater. "It's an interesting and slippery place–with this painting by Morriseau in the background witnessing these events." The first piece was finished in 2011, as an exploration on repetition and what is lost in the process of it but didn't feel quite complete to him. "I felt like I could repeat the repeating," he says. "I felt like I'm going to repeat this again, multiple times, into ideas of addition and art production and how art evolves over time and how it's repeated. I felt this was an addition...I knew the image was going to be repeated itself, I needed to think about how I was going to repeat myself."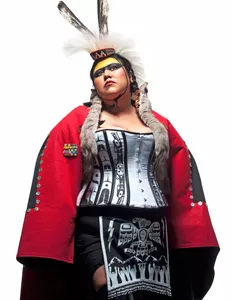 Previously on display at the Art Gallery of Nova Scotia for the Sobey Art Award exhibit, Sobey Award-winner Linklater's "Tautology" makes its way to Saint Mary's University Art Gallery as part of Beat Nation, jointly exhibited at both the Dalhousie and SMU art galleries. Organized by the Vancouver Art Gallery, Beat Nation features contemporary Aboriginal artists from all over the continent who are using decidedly urban influences like street art, hip-hop culture and alternative representation to frame what it means to be Aboriginal today. Divided into four categories–the Beat, Stage, Street and Tag–the works are as varied as the remixing video work of Bear Witness (of A Tribe Called Red), to the identity-challenging performances of Kent Monkman's alter-ego Miss Chief Eagle Testickle or Jordan Bennett's "Turning Tables" (pictured above) and Cheryl L'Hirondelle's land art intervention which remembers petroglyphs as the original street tag.
For Linklater, growing up listening to '80s hip-hop like Public Enemy made problems of inequality and historical issues relatable. "I think for me, that really connected to me, even though Chuck D wasn't talking about me and my experience," he says. "But he was, in way, showing that you can deal with these really ugly experiences in a way that's new, fresh, energetic and amazing.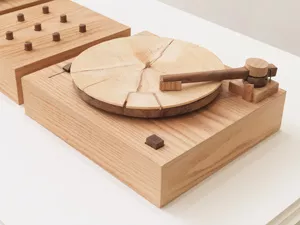 "I feel fortunate to have listened to hip-hop at that time. Groups were doing really amazing things at that time, but I will say that it was always a complicated listen with hip-hop, and still is, because the lyrics I was listening to often refer to Native American and First Nations women, in very ugly and disparaging ways."
It's Linklater's "Migrations" that shines a critical light on this problematic relationship of speaking to, and often for, other minorities, as four sets of blues and hip-hop lyrics are starkly displayed in wall vinyl–a medium usually reserved for the voice of the gallery through descriptions of the art. "As much as I love the music, I can't turn off that part of me that thinks critically about what I'm listening to," he says. "I might be bouncing my head but my mind can't dismiss or ignore those lyrics that I hear in hip-hop...I thought it was an opportunity to talk about and critically think about the relationship that the song is proposing–a relationship between hip-hip and indigenous people."
BOX
---
Beat Nation
March 22-May 18
Opening receptions at Dalhousie Art Gallery on Thursday, March 20 at 8pm and Saint Mary's University Art Gallery on Friday, March 21 at 8pm