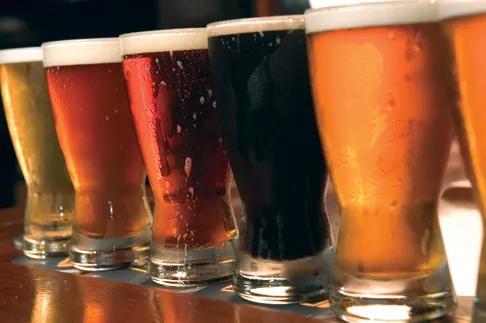 The family that drinks together, goes into business together. Isn't that what they say?
Regardless, it's the case for Halifax-natives Christopher Reynolds and Laura MacDonald and Brit Andrew Connell, the trio behind Barrington Street's newest liquid venture. Stillwell Beer Bar—set to open this fall—is the product of putting three hop heads together and taking inspiration from their favourite craft-beer-centric hangouts in Toronto, Brooklyn and London to fill a void, and some glasses, in Halifax.
It's an idea MacDonald and Connell—who met while working at a craft beer bar in London—have had brewing on the back burner for a few years. After the pair moved back to Toronto, where Connell managed barVolo (a family-run beer bar that's nearly three decades strong) Reynolds, MacDonald's brother, hopped onboard with the plan, but Stillwell really started to take shape over the last few months when the soon-to-be location, in the over a century-old 1672 Barrington Street, came available.
"Coming back, it's been interesting," says Reynolds, who returned to Halifax after five years in Toronto. "Craft beer in Ontario, it's wild watching it happen. It started with just a few in the LCBO [Liquor Control Board of Ontario], now its insane the plethora of options. Its a playground. And Nova Scotia's starting to do the same thing."
"I'd buy Propeller and Garrison at the LCBO and was just kind of proud," he adds. "Nova Scotia isn't very big but man, it's making waves."
Reynolds, MacDonald and Connell have a serious makeover planned for one-time Captain Sub/Greco Pizza that'll call upon the talents of Five By Five Renovations and Breakhouse (AKA the people who made Edna so darn pretty). Serving a selection of fine craft beers from the tap and hand-pumped casks, plus a rotating snack menu ('cause what's better than beer and snacks?) Stillwell already has beer lovers anxiously awaiting its arrival.
"Beer fans are of all stripes," says Reynolds of the diverse crowd he expects Stillwell to draw. "It becomes an equalizer, I guess." He says the bar is still likely about two months out. Consider my countdown on.