The retail wilderness of the Bayers Lake Industrial Park "severely lacks" the transit and accessible infrastructure needed for the province's new outpatient centre, say planning advocates.
On Thursday the provincial Liberal government
announced
it had purchased 15 acres of land in the BLIP as part of the
redevelopment
of the ageing QEII Health Science Centre. A new "community outpatient centre" will be built over the next four years on a patch of land behind Home Outfitters and Marshalls.
According to the Health Authority, the medical centre will provide blood collection services, diagnostic imaging, medical and surgical clinics along with pre- and post-operative care.
"This is a significant step in the QEII redevelopment project," said premier Stephen McNeil in a press release. "Not every service needs to be offered in downtown Halifax. We often hear Nova Scotians say traffic and parking are major concerns when travelling to the VG site of the QEII Health Sciences Centre.
But the off-peninsula location was
criticized
in a
joint statement released
by the Ecology Action Centre, Halifax Cycling Coalition, Our HRM Alliance and
It's
More Than Buses. The transit and planning advocates say the site currently has limited bus service, sidewalks, crosswalks and bike routes—making the new medical centre inaccessible to any patients or workers who don't have a car.
"We're talking about a medical facility that is going to provide services for many people who live in the region, and we're putting it in a location that is not accessible by walking, cycling or transit," says
Houssam
Elokda, spokesperson for It's More Than Buses.
The group says the province's decision to put essential medical services in an industrial park undermines HRM's own work over the last several years—including the Regional Plan, Centre Plan and Integrated Mobility Plan—to try and create accessible, healthy communities.
"It's kind of confusing how a medical facility that is supposed to promote health is put in a location that is going to negatively affect the health of the people that go there," says Elokda. "This is just the type of thing that encourages people to drive, encourages more carbon emissions and ultimately has an effect on our economy."
Thursday's press release from the province says 14 sites were considered for the new centre. McNeil told reporters that the Bayers Lake location's close proximity to Highways 102 and 103 was a key factor in the final decision.
David Bell, a urologist at the QEII, was quoted in today's press release as saying some patients can feel overwhelmed trying to navigate downtown Halifax traffic when visiting the Victoria General for outpatient services.
"The selection of this site is an exciting step toward providing more convenient, closer-to-home care, for Nova Scotians," the doctor states.
McNeil also tells Kieran Leavitt with the
Canadian Press
that the province will work with HRM to
improve bus service to the new site
. But Elokda says even with a "further subsidy" of additional transit lines, Bayers Lake as an area is "as car-dependent as it gets."
To illustrate its point, It's More Than Buses put together two maps (shown at right) displaying travel times for residents without a car who have an appointment at the QEII (which will still provide some outpatient services), versus an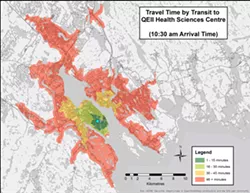 appointment at the new Bayers Lake centre. The maps factor in "excess journey time," or the time wasted waiting at a bus stop.
"Putting a major facility that's going to be funded by taxpayer money, that's only accessible for a portion of the taxpayers, I think that becomes an equity issue," says Elokda.
The province bought the 15 acres of undeveloped land from Banc Commercial Holdings for a price tag of $7.5 million.
The same property was
only purchased by Banc
from HRM four years ago. The company paid just over $9.3 million for the total 183-acre parcel at the time.