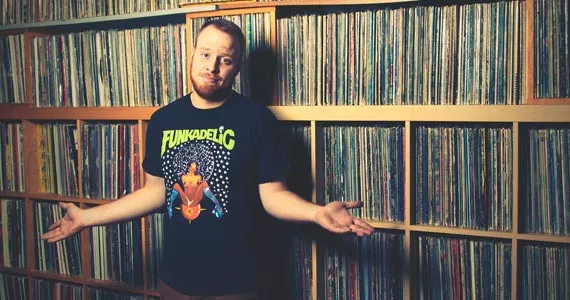 Paul Murphy was jostled in his seat, like an LP scratched by a frantic DJ, as Metro Transit route 80 lurched from stop to stop on the way from his Bedford home to downtown Halifax. At the time, the late 1990s, his turntable technique was as unrefined as that skittish bus route. But the aspiring record spinner was determined to arrive.
Downtown Halifax certainly wasn't the end of the line for Murphy. First he snagged a part time gig at Revolution Records on Prince Street. Before long he was blending those records' rhythms on turntables of his own at DJ competitions across the country. His momentum seemed to build in revolutions per minute. In 2013 he's not only heralded as our nation's premiere disc jockey, but also a producer extraordinaire, contributing most of the beats for Shad's Flying Colours.
Now Murphy, AKA Skratch Bastid, is about to bring it all full circle. On December 27 he'll host his annual Crunkmas bash, a tradition that started in his parents' Bedford basement, and will now be held at The Marquee, the venue where he first dropped the needle and made his name. Murphy adds that these Yuletide homecoming gigs are the least he can do for a town that shaped his unique style.
During a recent phone interview, he says the area's musical limitations turned out to be assets. "Maybe if I'd had all the Al Green records in the world, like every other DJ in history," he says, "then I wouldn't have listened to all the rock and cool, weird fusion-y stuff that was at Revolution Records."
Those harder-rocking elements are still prevalent on his latest cuts, especially the Flying Colours highlight "Stylin.'" The tune features stadium rock drums and guitar riffage courtesy of Shad. Later on in Flying Colours' sessions, the MC had another song concept that made Murphy feel even more nostalgic.
"He played me some of his family's music," Murphy says of the bustling Rwandan rhythms Shad's immigrant parents grew up dancing to. The DJ adds: "I brought in a bassline to try and make it sound like Paul Simon's Graceland. Because growing up, my dad was always bumping 'Call Me Al.'"
It all resulted in the aptly titled "Fam Jam (Fe Sum Immigrins)," Flying Colours' standout single. And the song's lyrical themes about immigrant struggles also struck a chord with Murphy's mother, who had relocated to Bedford from Trinidad. "After dinner she'd often crank calypso or soca on the stereo, and we'd all dance," Murphy says of his own personal fam jams as a boy. "Music was her link to where she came from."
Those rhythms have also bound Murphy to an extended family of beatsmith brethren. Murphy has managed to to collaborate or perform with most of his heroes. He even played a halftime show for a Toronto Raptors versus Miami Heat game, alongside none other than Fresh Prince of Bel-Air alumnus DJ Jazzy Jeff.
"We had courtside tickets during the game, and Jeff was testing out the new slo-mo camera on his iPhone," Murphy says, adding that it didn't take long for the legendary DJ to zoom in on the game's star player. "Then I asked him if he knew LeBron James, and he said yeah. And I kid you not, LeBron took two dribbles, looked up and saw Jeff, winked at him and shot the free throw. And Jeff said, 'Yeah, that was right on time.'
"At no point did Uncle Phil come and throw us out of our courtside seats," Murphy adds with a laugh, before explaining how his hip-hop extended family is far friendlier than that: "If you're at this level and stick with it, the world gets smaller and smaller."
---
Skratch Bastid's Crunkmas w/DJ IV, Plaeboi, Jorun Bombay, Tom Flemming, Zora The Sultan, Jay McNeil, Tachichi, Gordski and Greg Freeze
Friday, December 27 at 9pm, $16/$19
Marquee Ballroom, 2037 Gottingen Street