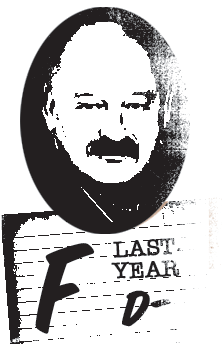 2010 grade: D-
2009 grade: D
If you're ever looking for the stereotypical disagreeable ex-cop, a guy who chews marbles when he speaks and has no time for sensitive feefees, Barry Dalrymple is your man.
Don't get me wrong: Dalrymple's put-upon disposition and no-patience-for-fools manner are his good points. But Dalrymple earns a failing grade for three reasons.
First, he poisons the political rhetoric with his disingenuous argument that Fall River is getting screwed in the tax/services calculus; it's not, as any fully equipped-thanks-to-amalgamation volunteer firefighter will tell you.
Second, Dalrymple has a perverse understanding of his role. "I don't need to answer [residents'] calls on snowplowing," he told council, saying that he tells his complaining constituents to call the city's call centre and leave him alone. He was elected to contemplate philosophical issues, he told council, and in order to do all that philosophizing he wants a district office and full-time staff. Just don't try calling him.
Third, Dalrymple wanted to hook councillors up to lie detector tests in order to find out who leaked information to the press, saying no innocent person would refuse to take the test. It's disturbing that an ex-cop would hold such contempt for civil liberties; it's outrageous that a councillor does.
How to improve: Take your constituents' calls, maybe smoke a little dope.