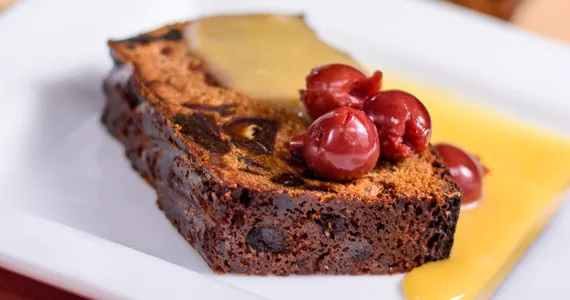 Ingredients
1 lb bacon, cut in ½-inch dice
1 lb dates, chopped
1 lb raisins
1 lb dried cherries, chopped
½ cup dark rum
½ cup water
½ cup white sugar
1 lb brown sugar
1 lb butter, room temperature
8 eggs
1 lb all-purpose flour
1 tsp cloves, ground
1 tsp allspice, ground
1 tsp nutmeg, ground
1 cup molasses
1 tsp baking soda
1 cup dark rum
Rum Sauce
1 lb butter
1 kg icing sugar
5 eggs
½ cup dark rum

Notes
When purchasing bacon for this recipe, make sure to get real, dry-cured, deep-smoked bacon. The mass-produced stuff just won't stand up to the other flavours of this recipe.
The rum sauce recipe does make a lot of sauce, but since butter comes in pounds and icing sugar in kilogram packages, it's easiest to just go that way. Also, once you have it, you'll want to make sure you have some kicking around all the time.
---
Method
Render bacon over medium heat, stirring, until lightly browned. Reserve a quarter-cup of the rendered fat. Combine first part rum, water and white sugar in a pot and bring to a boil. Add dried fruits and cover. Allow to steep, off the heat, for at least 30 minutes.
Line two loaf pans with parchment paper and grease with butter.
Cream together the butter, brown sugar and reserved bacon fat, until lightened in colour and fluffy. Add eggs to butter mixture, two at a time, working until fully combined.
Drain any excess liquid (if there is any, you can add it to the second part of rum) from the fruits and fold, along with the bacon, into butter mixture. Sift flour and spices together and gently work into butter mixture.
In a pan that is larger than you think you need, heat the molasses over medium heat. When the molasses just starts to bubble, whisk in the baking soda and quickly add to batter.
Divide batter between the two loaf pans and bake at 350°F for one hour, or until a cake tester comes out clean.
When the cakes come out of the oven, gently warm the second part of rum, and pour over the cakes.
Rum Sauce: Combine butter and icing sugar in a bowl set over a pot of boiling water (a bain marie). Cook, stirring occasionally until the sauce becomes smooth and slightly shiny, and the butter is fully combined, about two hours.
Add the eggs and whisk until fully incorporated. Remove the bowl from the bain marie and add the rum, whisking until fully incorporated.
Serve immediately, or reheat using the above bain marie method. —Graeme Ruppel, Stillwell chef
---
Stillwell
1672 Barrington Street
902-421-1672