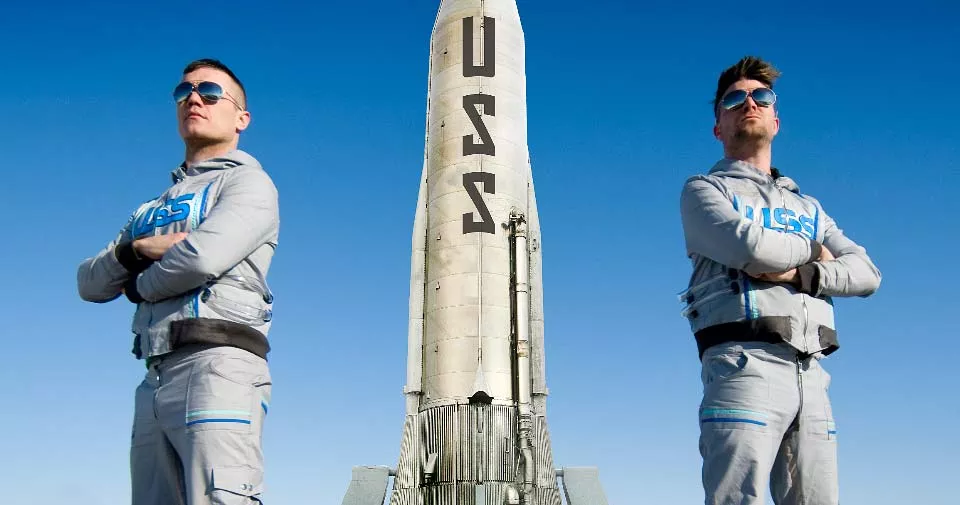 Have you ever been to a party that's like "Fight Club standing on its feet clapping along to Ellen DeGeneres as she passes through her audience with an acoustic guitar, two microphones and a set of turntables"? I haven't either, but on Friday Night, Ubiquitous Synergy Seeker (USS) promises to bring just that to the Seahorse. Joined by Halifax electro-pop quartet Neon Dreams, USS's Ash Boo-Schultz and Human Kebab promise to turn their east coast home-away-from- home into a dream-surf drum and bass dance party like no other.
After meeting almost ten years ago at a golf course, vocalist/guitarist Ashley Buchholz (Ash Boo-Schultz) and turntablist Jason Parsons (Human Kebab) have endeavored to play up what they consider their greatest strength as a band: the ability to "connect total strangers with the world of possibility," says Human Kebab. The duo has done this travelling the world, spreading its unique brand of electro-acoustic pandemonium. Combining drum and bass beats and grungy riffs, the band likens its sound to a "campfire after-party with a jungle-rave vibe."
In the last three years, the duo has played stages in Canada and the United States as well as travelling to Mumbai with Smirnoff and MTV as part of their Nightlife Exchange Project. Their songs have been featured everywhere from video games to an episode of Degrassi, and in 2010, they recorded a single with Nova Scotian bad boy (baddest boy?) Ashley MacIsaac, appropriately titled "Maverick." USS' latest single, "This is the Best," climbed Canadian alternative rock radio charts.
This weekend, USS is excited to be back in Halifax with a promise.
Says Human Kebab: "There will be sweat. There will be pandemonium. You may or may not see me hit my head on the ceiling on stage as a result of the sheer jumping joy and dance floor slaughter by all of our greatest Haligonian party animals."
---
USS w/Neon Dreams
Friday, October 4 at 9pm
The Seahorse Tavern, 1665 Argyle Street
$20