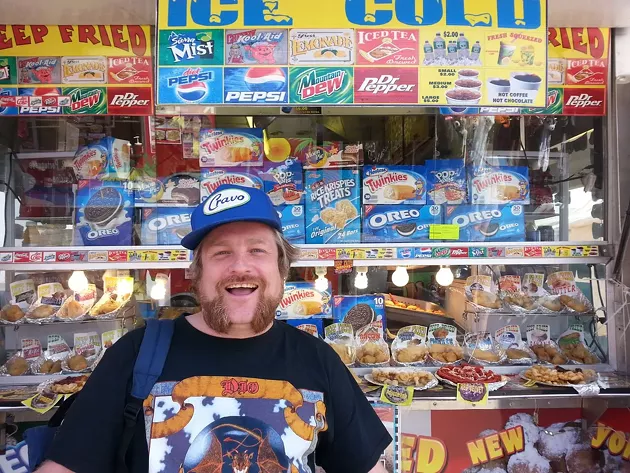 Coming back to Halifax for his yearly visit to sprinkle Jager on the city, and also to tour his latest album
Gremlins 3
,
BA Johnston
flies in on a snot rocket to
Gus' Pub June 17 with Spew, Outtacontroller and Reaguns Rayguns
9pm, $6, $3 with Weedeater ticket stub, $10 with Moncton ID (lollll).
In January, Johnston professed his love for donair sauce—
primarily King of Donair's
—with "I Love Donair Sauce".
Following in the theme, BA shares his 5 must eat locations when he's in town. Wash these picks down with
his new malt liquor
because of course that's a thing that he has now.
B.A. Johnston's Top 5 Spots for Grub
For the record, I'm a bit out of the loop on ol' Halifax dining. It's been a while and I'm sure there's some stupid new hotspot selling sushi nachos or some crap I don't know about. But when I'm in town, this is what I scarf:
1)
John's Lunch
: You know what you can't get in Hamilton? Clams. You can sometimes get clam strips but I'd rather eat a raccoon's foot. John's Lunch has those whole belly clams - the ones I think about when I'm at home wishing I was eating clams.
2)
Salvatore's Pizzaiolo Trattoria
: This is what I get when I'm too sober to order Kit Kat. My friends say stuff like "You should try Mother's Pizza up the street" and I'm just like "Hahahah, no" and then we just go to Salvatore's again. It's pretty much perfect. I've eaten pizza coast to coast and this is top five in the country. Plus, I dig their hard line on toppings.
3)
Kitsune Food Co.
: I'm a cheap dude, but you know what I will spend money on? Sushi. Because this isn't like a hotdog. It's raw fish and stuff. Kitsune is awesome. It's cute and the owners are the best. Honourable mention, however, to the sushi in that Spring Garden mall food court. Ko-Doraku. Also dope.
4)
Cosy Snack Bar
: Halifax has a ton of rad breakfast joints - better than Toronto and miles ahead of the barren wasteland that is breakfast dining in the Hammer. Mary's and The Ardmore are both dope, but there's something about Cosy's. I wish this place was near my basement apartment in my Mom's house.
5)
Brothers Meats & Delicatessen
: Yeah, it's not a restaurant and I'm not even sure how much I like it. But I can tell you straight up: the odds of me stopping in, breathing in that sweet pepperoni air, and then driving around in my minivan eating it are like 110%.