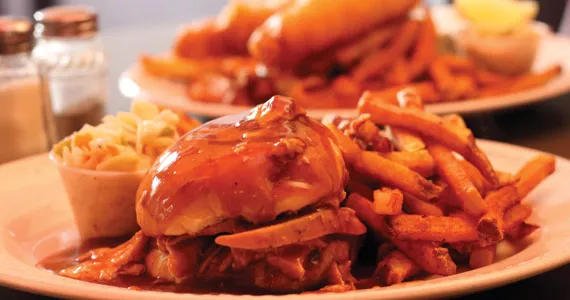 It's around 12:30pm and there is a pretty good lunch crowd at Jacob's Restaurant. Half of the tables are full and there's a nice amount of happy chatter filling the room.
With the attached lounge and the fish and chips decal on the window, my friend and I expect a true-blue pub when we walk through the doors, but it turns out that the restaurant is aiming for more of a bistro feel, with sunny walls, tiny chandeliers, mall art and plastic hanging grapes that invoke France and Italy. A bar runs along the back wall, dark and gleaming with bottles and taps. On another wall looms a huge mounted sculpture, a Dionysian face that is a sort of play on the Bocca della Verita. It's odd.
We sit down near the front, under a dry-mounted poster of what looks like a feral cat in Sicily or Malta. We're seated for a little more than five finger-drumming minutes before a server comes over to ask us if we'd like drinks. I order what turns out to be a truly terrible cup of coffee ($1.74).
When she returns with our drinks, she asks us if we're ready to order. We are not, we tell her, as we were never given menus. She apologizes and brings them back a few moments later. The food is standard pub fare---soups, sandwiches, burgers, salads and some pasta.
It's another lengthy wait before our server comes back to take our orders. She asks if we're ready and I ask her if she has any recommendations---I'd love to know what the restaurant is known for, what she thinks is their best dish. With an unremarkable menu, it would be nice to know if there is something that might make Jacob's stand out in the crowd.
"I don't have any recommendations," she says. "It's my first shift, my first day." She goes on to say that the daily specials have been popular, and someone had commented that the salmon was very good. I ask if they are known for their fish and chips, since there is a picture of it in the window. She says yes. I order the two-piece meal ($7.95). My friend orders the hot chicken sandwich ($7.50).
The lunch rush is ending and the restaurant is almost empty when our meals arrive. The fish is not bad. It's not the best I've ever had, but it's not the worst. The batter is light and fluffy and the fish is moist and flaky. The fillets are a pretty golden colour and have no bitterness or burnt flavour; it's obvious that the oil it was cooked in was clean, which is great. Sweet, relish-like tartar sauce and a little tub of coleslaw are served on the side. I really dislike the coleslaw. It's very watery and incredibly acidic. Little chunks of raw green pepper are mixed in with the standard coleslaw mix. I find the slight bitterness of the pepper doesn't mix well with the incredibly vinegary slaw. The only positive is that it cuts straight through the grease from the fish and chips.
The coleslaw is also served with the hot chicken sandwich. Served on a hamburger bun and covered with runny, pre-fab gravy, the only word I can think of to describe the sandwich is "edible." It definitely doesn't inspire any excitement. The chicken has a rubbery, watery taste of processed meat.
The highlight of both plates is the hand-cut French fries. Though they aren't crispy---a second trip into the fryer using a twice-fried technique might make them outstanding---they are quite tasty.
The mouth of truth would surely bite the hand that feeds it if told that Jacob's is the casual European bistro that they seem to be aiming to be. No matter how you dress up a space, middling pub food is just that.