Everybody's favourite season is here and while we have to put away our bathing suits and paddle boards, we can swap in all of our best autumn excursions. Where better to find colourful adventures than our nation's capital?
The region perfectly blends indoor city explorations with outdoor countryside getaways, and now it's even easier for Maritimers to
fall
in love with Ottawa. Porter offers quick direct flights that whisk you away whether you're itching to get away for an extended weekend, or to extend that business trip for pleasure.
You'll be able to gaze out onto all of the amazing foliage that Ontario is known for and explore the capital while you're at it.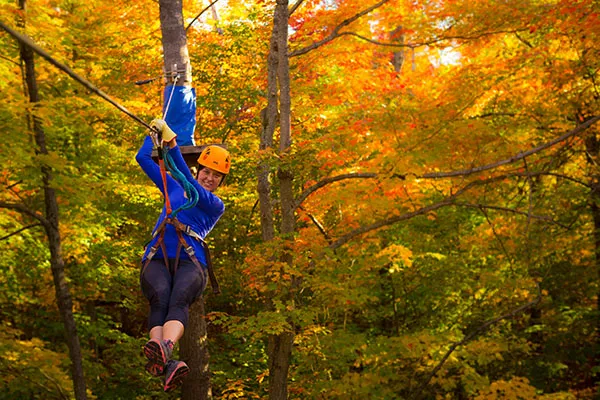 If you're wanting to hold onto outdoor activities, you can get your thrill on while gliding through the changing leaves. Ziplining is every adventurers favourite pastime, and beginners rejoice in the safety of the harness attached. Walk, jump, and fly over Gatineau Park at
Camp Fortune's aerial park
.
Is that the adrenaline or the incredible views that have your heart racing? It may be a little bit of both, but it's sure worth the shortness of breath.
We can't forget the ultimate thrill at the
Great Canadian Bungee
. This classic isn't just on our summer list, and the cool autumn breeze may help with the fact that you're breaking a sweat. But don't worry, they've got you safe and secure. All you have to do is turn that brain off, and jump!
There's still the option of rock climbing, cycling, and driving through a Canadian safari to keep you closer to the ground. Whatever your risk-taking level is, there are
options for everyone
at this time of the year.
Like an Instagrammable Fall photoshoot that awaits you in these top places.
Autumn is already our best season for photos, I mean, can we beat cozy sweaters, un-frizzy hair with perfect auburn undertones, and chunky boots? Show off your latest thrift-find with some of the most photogenic landscapes around Ottawa.
Hog's Falls and autumn are meant to be with the chilled breeze sending your hair into a whirl, with amazingly coloured trees in the background. Opt for the paths that go along with it or just snap the photo and skedaddle to the next stop.
Gatineau Park is an every-season favourite, but autumn always seems to take the cake. Especially during
Fall Rhapsody
, where you can hitch a ride to the park by shuttle. Skip the worry, this trip is all taken care of.
Eagles Nest Lookout is our must-see pick of the season, even with the hour drive west. With the short hike, you can wind up having a panoramic view on a 120-metre cliff! Pack your best vest, and your hiking boots for this one.
Now, there are plenty more places for your photo-op, we just can't pick! So we'll let you
do the digging
and see what's your favourite.
There's also nothing like fall to bring out the romantic in you.
Pack a picnic for your scenic stroll around Major's Hill Park, Neapean Point, or Gatineau Park with goodies found at the ByWard Market. You can snap a few cutesy photos while you're wandering through artisan shops and munching on baked snacks.
Take an outdoorsy tour with Tours Expedition Ottawa or a foodie tour with Ottawa Tasting Tours, and then we highly recommend a night unwinding at the
Nordik Spa-Nature
. What more could we want for our partner getaway than thermal baths and steamy saunas? If that doesn't rekindle your love, we don't know what will? Maybe they'll even pop the question…
Hiking through the leaves, sipping on pumpkin-spice beverages, and then cozying up by the fire. Ottawa has yours and your
honey's next getaway
planned, or you can always kick it Han style – solo!
If you're a big museum goer, you're in luck. Stay warm inside with Canada's National Museum Passport:
You can see any three of
Ottawa's national museums
over the course of three days for only $35. So even if you're just here for a quick trip, you'll be able to squeeze in some of Canada's history.
We'll recommend the Canadian War Museum, National Gallery of Canada, and Canada Agriculture and Food Museum.
The
Canadian War Museum
will inspire you with its touching stories and interactive presentations, the
National Gallery of Canada
showcases a completely reinvented Canadian and Indigenous Gallery, and the
Canada Agriculture and Food Museum
is located on an operational farm within the city and talks on the benefits and relationships between Canada's agricultural heritage and food literacy.
If all that doesn't scream: well-rounded trip to Ottawa, what does?
This is only part one of two for the fall Ottawa series, stay tuned for spooky tips and tricks when visiting our Nation's capital closer to Halloween!
This content has been developed and paid for by Ottawa Tourism, without involvement from The Coast's editorial department.