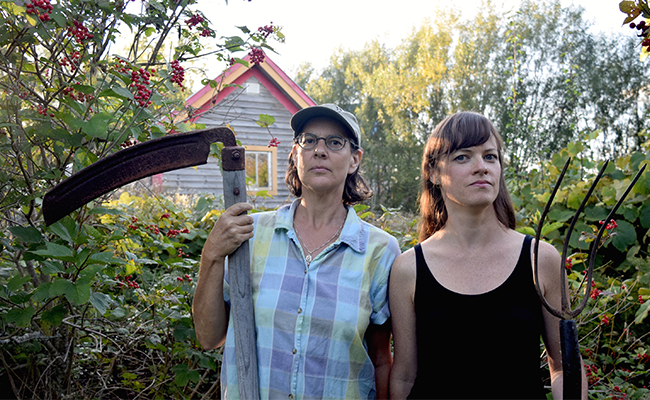 Modified at Devour! The Food Film Fest
Al Whittle Theatre
450 Main Street, Wolfville
Tue Oct 24, 1pm
Wed Oct 25, 10am
$5, devourfest.com
Growing up in the Gaspereau Valley, Aube Giroux's backyard doubled as her grocery store. Her mother's sprawling, bountiful garden was the source of not just her family's every meal, but her own fascination with growing and preparing food. And eventually, it was fertile ground from which first feature length documentary grew.
"She always said that her most important form of activism was growing our next tasty meal in her garden," narrates Giroux over the opening sequence of Modified, as old Polaroids of her mother dance across across the screen. Beautiful and baffling, her political debut tackles the questions surrounding Canada's lack of labelling when it comes to genetically modified organisms in our food through a personal lens, weaving together her research with footage of her mother's kitchen and garden, old home videos and voicemails. It's an investigation of our food systems, for sure, but its crux is the palpable mother-daughter bond.
"Like I say in the film, I learned how to use my first camera in my mom's garden, just filming her, and really it was my mom who passed on to me this fascination and obsession around GMOs. It really was a shared thing we had," says Giroux. "The moment GMOs got under my skin, I didn't have a choice in a way to make this film or not. It almost like it just felt like something I had to do and I had to explore this question."
After two years living in Europe, which helps to make up the 64 countries worldwide that label GMOs, she moved back to Nova Scotia in 2006 with a nagging desire for answers about food transparency in her own country. An organic farmer and filmmaker, Giroux— whose whimsical stop motion farm-to-table video series, Kitchen Vignettes, has since earned her two James Beard nominations and a regular spot on PBS' video blog—spent a decade making Modified, taking pause when her mother passed away two years into its production.
"At the heart of the film—it's not just a story about GMOs, it's about whether our government is representing our interests as citizens or is it representing industry interests," says Giroux. "And that's something that doesn't just apply to GMOs but so many aspects of our world."
Modified premiered last month at FIN, and then took home the Audience Choice and Best Atlantic Filmmaker awards at Lunenburg Doc Fest. This week, it screens twice at Wolfville's Devour! A Food Film Festival. Giroux hopes that her film will inspire more open-minded dialogue about the issue, and less polarized debate. "And that it will entice people to contact their MPs and elected representatives, so the next time we have a GMO labelling bill we can get this passed," she says, adding that when the latest GMO labelling bill was toppled last May, every single one of Nova Scotia's MPs voted against it.
"All of the polls—every single poll from the last 20 years that has been introduced in Canada—show that over 80 percent of Canadians want them labelled," says Giroux.
"The reason Europe has GMO labelling is because right off the bat they were like, 'Wait a second—of course this has to be labelled,' and people fought for it. I think Canadians and Americans are not quite as connected to our food as Europeans," says Giroux. "If you love something you want to defend it. And for me that is also a lot of the film is about, we need to love and appreciate our food and be willing to stand up for it."