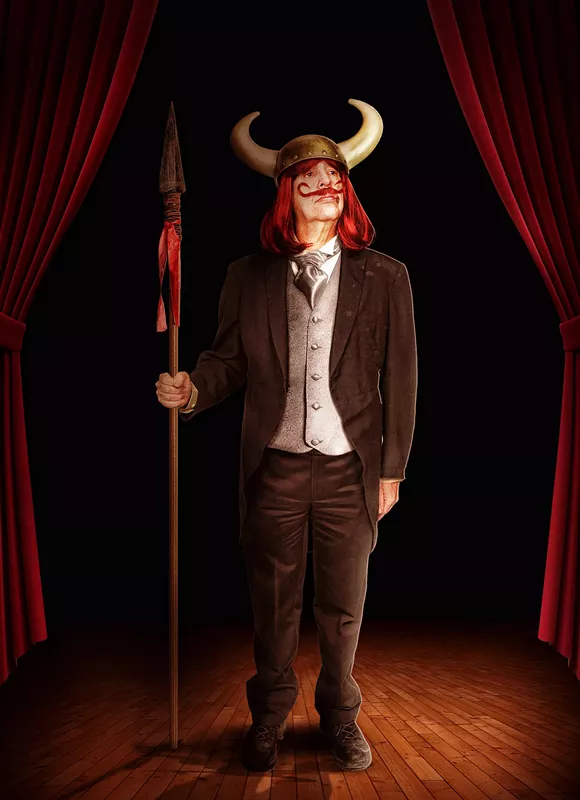 Atlantic Fringe is celebrating its 25th birthday, and you're invited. Take in some, or all, of the 50 shows offered over the next 11 days.
To help you make your choices, The Coast has assembled a crackerjack team of reviewers:

Meghan Hubley -
Meghan Hubley is a poet, playwright and arts writer from Halifax, and a founding member of Once Upon a Theatre Collective.
Hugo Dann -
Hugo Dann has been a professional theatre artist and queer activist for 35+ years. He won Best Actor at Fringe 2014 for
Whale Riding Weather
.
Carey Bray
- Carey Bray is an award-winning Halifax poet and a recently-started actor. He is best known as Panicky Idiot #2 in the Poseidon Adventure.
Jane Kansas -
Whaddya know? Jane Kansas used to work for The Coast and used to be in the fringe festival. Weird.
Patricia Denyko -
Patricia Denyko is a Broadway aficionado who hails from New York City
Kevin Hartford -
Kevin Hartford has written for The Coast for three years. He enjoys comic books, the convenience of the 320 bus to the airport, and nachos.
Amanda Campbell -
Amanda Campbell is madly in love with the Canadian Theatre. She writes reviews on her blog
TWISI
and tweets @twisitheatre. A lot.
Martin Wallace -
Martin Wallace has been fringing for decades. He remembers the early years of the festival, when seeing all the plays you wanted to meant crosstown sprints.
Kate Watson -
Kate Watson is The Coast's theatre writer. She approaches Fringe each year with joy and trepidation. So many plays!
Check in each afternoon to get their insights. Will they all agree? We hope not!
Confessions of an Operatic Mute
In his brilliant one man show, Briane Nasimok regales the audience with his life story based on his unnoticed rise as a prolific operatic mute. For those unfamiliar with opera, mutes are the theatrical equivalent of the extras; characters resigned to the background. They are the silent and forgettable, and also the ones Nasimok has built his career on.
Nasimok speaks with self-deprecating humour that gives him an unexpected, undeniable charm. He's the guy we all want to end up sitting with at Christmas Dinner. A former member of the Canadian Opera Company, Nasimok flaunts his "memorable" performances as waiters, soldiers, and Nubian slaves with honour. While his story's timeline has some chronological hiccups, his innate gift as a story-teller forgive him of these discrepancies.
Briane Nasimok brandishes an undeniable love for theatre. His passion breathes life into anecdotes. His willingness to play the smallest roles to be close to what he loves stands testament to his love for art. Nasimok's success lays in the realization of his own limitations as an actor. For an actor who's been deprived of standing in the stage's spotlight, the inspiring Nasimok fully deserves his chance to stand in it now.
- Carey Bray
Ginger Nation
Shawn Hitchins tells his humorous chronicle of being a gay redheaded sperm donor with the ease of someone who has spun this yarn many times and has gotten very good at weaving it. Much of his tale unfolds at the sort of quick and lyrical pace that sends laughter rippling to and fro throughout the audience, building up to bursts of applause as the story reaches its dramatic crescendos. Asked by a lesbian couple to father their child via old-fashioned turkey baster, Hitchins finds himself masturbating into cups in increasingly suspect bathrooms and pondering the ethics of passing on his ginger DNA to another generation of 'Weasleys'. Hitchins's demeanor, pop culture references and use of a microphone evoke stand-up comedy more than theatrical monologue, so after long stretches of awkward insemination jokes, darker and authentic emotional terrain dealing with the complexities of paternal rights comes as a surprise. Hitchins is a polished entertainer who excels in masturbatory humor (in the best sense) but is also movingly vulnerable as he talks about the isolation of growing up different.
- Patricia Denyko

The Yellow Wallpaper

The Yellow Wallpaper
is the kind of gem that one hopes to unearth at the Fringe.
Playwright Alison House has adapted Charlotte Perkins Gilman's 1892 story into a short, riveting piece that plays equally well as Gothic horror story and as feminist text, and is frightening on both levels.
In the play, we meet Jane (Christine Daniels), a young woman who has been prescribed a rest-cure by her domineering doctor husband. Confined to a top-floor nursery in a decaying mansion, Jane becomes obsessed (or possessed?) by the pattern of the room's horrid yellow wall paper.
Daniels gives a brilliant performance. She begins the play as a perfectly rational, if slightly nervous, young woman. But over the course of half an hour, she reaches to the point of madness. Daniels' Jane is a tightly wound spring and it's devastating to watch her uncoil.
Director Jozel Bennet paces the action beautifully, taking the audience on a gentle amble that ends on a breakneck gallop.
- Kate Watson
Heroic
The Doppler Effect's newest show, Heroic, is about strength. The strength of a team. The strength of a leader. In it we find Annie Valentina as Stargazer, a heroine full of conflict who feels the full impact of every decision she makes. And it's a conflicting play. Valentina carries most of the acting weight, but Stargazer, and
Heroic
's strength has limitations. Sometimes its hits land where they're supposed to, sometimes not.
For me,
Heroic
saves the day when fully utilizing its supporting League of Guardians cast. Andrew Kasprzak, Gillian Clark, David Rosetti, and Henri Gielis aptly rise to the challenge. Onstage they inject the show with the necessary action. Their dysfunctional humour and turmoil create bickering characters reminiscent of The Avengers. Props can be given for its physicality and special effects. The biggest nemesis these characters face, however, is time. Stargazer is given ample character development and Stargazer's past is consistently told through monologues, rather than what could have been meaningful/exciting interactions with her co-stars. Heroic insists that success is built on believing in the power of characters and the true dynamic of a team. It's a shame the show as a whole doesn't abide by that creed.
- Carey Bray
Once: Africville Stories
Exuberant, sorrowful, rich with memory, and political in a profound and meaningful way,
Once: Africville Stories
deserves—and demands—a wide audience. Told through a series of monologues, dance pieces, and deeply affecting soul-and gospel-inflected live vocal performances,
Once
is the story of a community that may no longer exist as a collection of houses, but, the play insists, still lives on in the memories and ideals of the descendants of the families who once lived there.
Director/actor/writer David Woods' dialogue displays a joy in language often missing in contemporary plays, his phrases deeply rhythmic and evocative, as they deftly switch from narrative description to prophetic truth—the implied antecedent of this language coming into sharp focus when the final monologue is delivered from a pulpit. Woods and the other performers deliver this dialogue with an assured naturalness that will not fail to affect you.
A play for the ear, the mind, the heart, and the soul.
- Martin Wallace

Confessions of an Operatic Mute


Sometimes when someone tells me a bizarre anecdote about their lives I say to them, "That's a Fringe Show." Briane Nasimak's professional career as an Operatic Mute (or Extra), which took him on a multitude of adventures, is an excellent example of how this works and his play
Confessions of an Operatic Mute
plays at the Waiting Room as part of the Atlantic Fringe Festival.
Nasimak has genuinely captivating stories, a sweetly charming personality and a gentle comedic rapport with the audience, especially when focused on self deprecating stories in his romantic hijinks and his escapades with the Extras at the Canadian Opera Company. He would benefit from working with a dramaturg to help shape the stories in a tighter arc and to pack the punchlines with a stronger force and working with a director to help use movement and physicality to more ardently create the world of the piece.
There is a sweet vulnerability in Nasimak here, which is nicely echoed in the idea of someone who usually remains silent in the background stepping out, solo, to voice his experience.
-Amanda Campbell
For information about show times, venues and costs, visit
AtlanticFringe.ca