Read them all, or jump to a specific review with these links:
Midsummer Night's Dream & Macbeth
NOUN
Our Summer Home
Rabbit Moon: A Tale of Japan
Tunnel of Love
The Vanishing Woman
We'll Always Have Port Stanley
The Wrath of Ponzi
---
Behind the Curtain: the sound and light show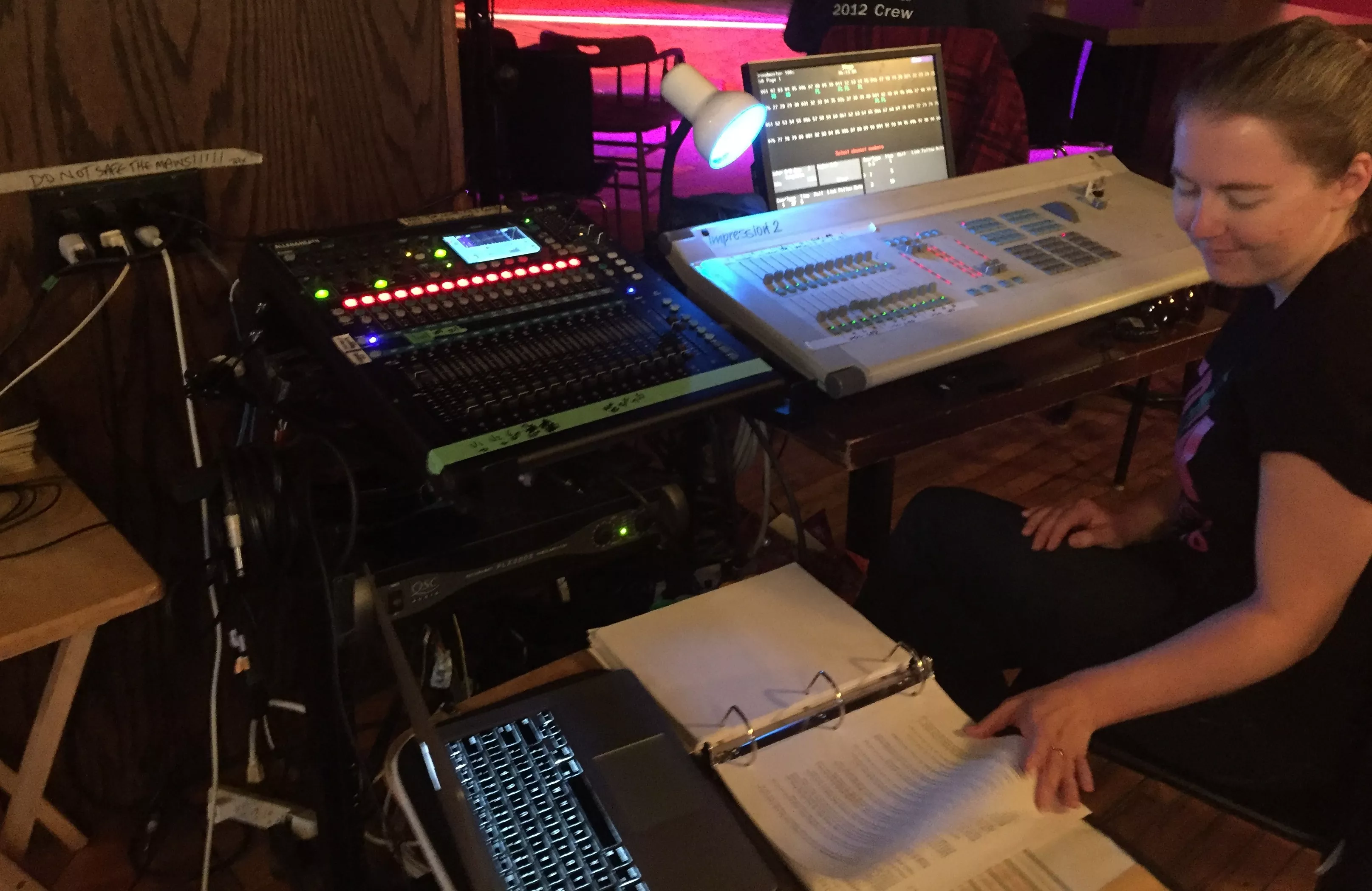 ---
Midsummer Night's Dream & Macbeth
performed by Bard on the Boardwalk
Tear yourself away from the craft-beer comfort of the North End and head down to the Rotary Arts Amphitheatre on the waterfront, where Bard on the Boardwalk, whose mission is to bring us accessible and affordable theatre (it's pay what you can) is doing busker-style Shakespeare.
If you can make it through the awkward rapping and beatboxing that should have stayed firmly in a 1990s high school classroom with a teacher trying to make Shakespeare hip, I promise it gets better. First up is a 15-minute
Macbeth
, and the time constraints force the comedic treatment the play is well-suited for. It really cuts down on all Macbeth's whining about his guilty conscience, but keeps the good stuff like the witches. There's Yakety Sax, a Mortal Kombat style showdown, and sock puppets. You know, just the way ol' Willy Shakes intended.
BOTB's 20-minute rendition of
A Midsummer Night's Dream
is a little more faithful to the original text (there's a fistfight between Helena and Hermia in that one, right?), allowing the troupe's well-choreographed physical comedy to take centre stage as they roam about the audience and out into the path of passing pedestrians.
This one's easy to drop in and out of if you can't stay for the whole thing. Just bring a sweater—it's starting to get nippy out
—Nicole Maunsell
Rotary Arts Amphitheatre
Bishop's Landing
$PWYC

Tuesday, Sept 6, 5:30pm
Wednesday, Sept 7, 5:30pm
Thursday Sept 8, 5:30m
Saturday Sept 10, 3pm & 5:30pm
Sunday Sept 11, 3pm & 5:30pm

NOUN
by Brandon Lorimer
directed by Annie Valantina
I was just reading about a quirk of the english language:
NOUN
has lots of weird word order, mostly offered up by the insufferably hyper-cute idiot chirping man-child character (either A or B; I forget who was who) Lorimer has written for himself. Two men—the other is older, wiser, ailing and has a man bun (played by Jeffrey O'Hara)—have survived an apocalypse and made camp. O'Hara's character spends time coughing up a lung and receiving mysterious baseball-like objects lobbed at him from off stage. Lorimer channels the boy centaur Newton from the 1960s cartoon series
The Mighty Hercules
.
Two redeeming things in
NOUN
.
First, the idiot man-child has somehow stumbled across a record player and a copy of Gil Scott-Heron's first LP,
Small Talk at 125th and Lenox
, still in its record store plastic protective sleeve. And although the idiot man-child doesn't know what a toaster is for, he does know how to operate a record player and the audience gets to hear snippets of Scott-Heron.
Second, there's a third character in the play (possibly The Vendor), a woman of ominous warnings in a boss wizardly muumuu costume. The actress is not identified in the program. The women mentioned in the thank you section are Lee-Anne Poole, Mauralea Austin, Margaret Legere, April Hubbard and Hilary Scott. I don't think it was Legere. It definitely wasn't Poole or Hubbard; I know those two. Scott looks too young on Facebook So my guess is Mauralea Austin, but I don't know for sure. Another mystery of life.
—JK
The Bus Stop
2203 Gottingen Street
$8

Monday Sept 5, 3:10pm
Saturday Sept 10, 8:00pm & 11:10pm
Sunday Sept 11th, 11:30am

Our Summer Home
by Kai Rudell
Albert, the father of the family inhabiting
Our Summer Home
is dead; our knowledge of him is conveyed through his pre-recorded will. It is his voice that introduces us to the characters in the play. There is Edith, the polished and hypercritical mother with a drink always in her hand, Charlie, the much-put-upon mamma's boy, who is constantly threatening suicide, and Siegfeird (sic), or Ziggy, the handsome and none-too-bright actor, who is obviously his mother's favourite. Oh, and there is also Abigail, the main character, who sets in motion the action of the play with her proposal that the family meet once a year at their cottage, or "summer home," to reconnect. Despite Abigail's relative lack of character flaws, she is also the only family member left nothing in Albert's will.
While the characters are a bit broad (and to be frank, I liked Edith and Charlie better with their original names, Louise and Buster), they are well acted, and, despite a few, not irreparable, plot inconsistencies, the opening performance shows potential for a broad farce or twisted melodrama, a truly enjoyable play.
Except there is no play. Not really. Billed at forty-five minutes, the play's actual running time is barely twenty. A climax and a denouement (with a "twist") arrive before we've had a chance to know the characters beyond their broad outlines. All the complicated setup proves pointless. The ending abrupt and unsatisfying.
It is the nature of the Fringe that many productions are not so much plays as ideas for a play. It often serves as a kind of workshop for actors and playwrights just starting out. Once this play is reworked and fleshed out it might become a solid production, but as it stands now, it's barely a momentary diversion.
—Martin Wallace
The Living Room
2353 Agricola Street
$5

Monday Sept 5, 9:50pm
Wednesday Sept 7, 8:00pm
Friday Sept 9, 8:20pm
Rabbit Moon: A Tale of Japan
by Sarah Jane Blenkhorn
In 2006, writer and performer Sarah Jane Blenkhorn was supporting herself with a series of part-time jobs when she saw (in
The Coast
no less) an ad offering the opportunity to teach English in Japan. Whether through "a whim, or an act of desperation," she applied. Her application was successful, and she went to Japan, where she found wonder, confusion, exuberance, and finally, a sense of belonging and fulfillment.
There's a double risk in the presentation of such material. On the one hand, there's the queasy philosophical and political implications inherent in stories of North Americans going to foreign countries and "finding themselves." Too often, the customs and people of other countries are treated as exotica, as colourful backdrops to the author's personal journey.
Paradoxically, there's also the opposite risk of over-familiar material. Japanese culture, or at least aspects of it, now permeates many segments of our society. And going to an Asian country to teach English is a far more common practice now than it was in 2006.
Blenkhorn avoids these pitfalls, primarily by maintaining a sense of humility and wonder about what she encounters. This is her story, but it's also the story of a very particular Japan. We learn about her brief relationship with a Japanese man, her karaoke debut, her nervousness about teaching, and her eventual triumph over that nervousness. We also learn about the City of Many Gods, about the protocol for drinking at Japanese parties, about aquariums where labels describe not only the names and biological details of fish, but also how each one tastes. Blenkhorn is always as much observer as protagonist; there's a sense that we are taking this journey with her for the first time and she's as surprised and delighted (or nervous and disappointed) as we are.
Blenkhorn is a fluidly physical performer, whether bowing in memory of various introductions, or dancing with abandonment in tribute to nights in boisterous Japanese clubs. She's barefoot for much of the performance, having removed her shoes at the point in the narrative where she enters a Japanese home for the first time. She's also retained a lot of Japanese, which she speaks with (to my untrained ears at least) fluidity and correct pronunciation. It's a delightful production and it will—yes I'll say it—broaden your mind.
—Martin Wallace
The Living Room
2353 Agricola Street
$9

Saturday Sept 10, 12:45pm
Sunday Sept 11, 3:30pm & 6:20pm
Tunnel of Love
by Kevin Hartford
We're all probably in a little bit of denial that we'll die someday. But what if your denial outlives you? Kevin Hatford's dark comedy about heading toward the light starts with a car crash and two recently deceased strangers who are lying to each other and themselves.
Jessica Barry plays Claire, a muscle-car driver in a lacy dress and denim vest, who's getting increasingly exasperated with Frank (Scott Baker). Despite all evidence and an otherwise annoyingly logical mind, Frank refuses to admit that he's dead, and Claire realizes she'll have to drag him along to whatever comes next. As the two get to know each other and Frank's mental gymnastics become more and more impressive, you start to wonder who's helping who. Barry and Baker have great onstage chemistry and hilarious material to work with: it's fun to watch them play off each other. Don't look here for deep lessons about the meaning of life, but expect to relate to both characters as they hover between life and afterlife.
—Nicole Maunsell
The Waiting Room
6040 Almon Street
$10

Monday Sept 5, 3:20pm
Friday Sept 9, 5:45pm
Saturday Sept 10, 3:50pm
Sunday Sept 11, 2:30pm

The Vanishing Woman
by Trevor Poole
directed By Trevor Poole & Keelin Jack
performed by Zach Faye and Meghan Hubley
The Vanishing Woman
is a love story between opposites. Once together, we learn that Kevin and Jessica have since separated and both parties are taking it in different ways. Jessica wants her space—just to be simply left alone. Kevin on the other hand, refers to himself as a romantic and is not content to let her go so easily. The result is a haunting, heartfelt magical act.
I'm not quite sure how
The Vanishing Woman
manages to develop such depth in a show that clocks in at just under fifteen minutes. What I do know, however, is that Trevor Poole, Keelin Jack, Zach Faye and Meghan Hubley have brought a beautiful flicker of a show to Fringe.
—Carey Bray
The Waiting Room
6040 Almon Street
$8

Monday Sept 5, 9:20pm
Saturday Sept 10, 8:25pm
Sunday Sept 11, 7pm


We'll Always Have Port Stanley
written by Marion Johnson
In 
We'll Always Have Port Stanley
, we are taken to the Harbourview Resort, a hotel referred to as a little piece of heaven, where folks can get away, maybe even getting a little lucky while they're at it. The entire show is set in the room of timid, apologetic Harry (Quincy Russell), who we quickly learn is preparing for a romantic rendezvous with fellow hotel-goer, the more direct Jen (Maggie Hammel). Whereas both seem to embrace the Vegas mantra of "What happens in Port Stanley stays in Port Stanley," there is palpable awkwardness and nerves for both characters—and it's not just pre-game jitters…
Akin to its premise,
We'll Always Have Port Stanley
is a short-lived affair that would benefit from more big emotional punches to make its climactic moments resonate more with audiences. Whereas Quincy Russell does wounded, vulnerable Harry justice to a degree, his overall performance came off as quiet and reserved in comparison to his counterpart Hammel, who seemed much more confident and comfortable in Jen's skin.
All told, there is heart to be found at the Harbourview Resort. It is a place that offers pure escapism. It's a play about life, and as such, it's a reminder that life isn't always so easy to escape.
Winner: Best Production & People's Choice at 2015 London One Act Festival.
—Carey Bray
The Waiting Room
6040 Almon Street
$10

Monday Sept 5, 10:20pm
Friday Sept 9, 10:05pm
Saturday Sept 10, 7:10pm
Sunday Sept 11, 8:00pm


The Wrath of Ponzi
written and directed by Nicholas Cox
What is OmniGlo? Representatives will tell you it's
not
a pyramid scheme. It's an innovative model responsible for churning out more billionaires than any other competing business. But it's not a pyramid scheme… so don't call it that.
Wrath of Ponzi
centres on the shoulders of James (Tom Lute), a failed real-estate agent who's hosting a dinner party with his viper-esque girlfriend Cleo (Audrey Eastwood) for his ex-girlfriend Amy (Rachel Hastings), who, much to James' chagrin, shows up with her new, sarcastic girlfriend Devin (Jessica Oliver).
The meal quickly devolves into a business pitch for James; OmniGlo is his shot at redemption and Tom Lute does his character justice, depicting a faux sense of eagerness that quickly implodes into blatant desperation. But the play truly comes into its twisted own following the arrival of Lance Maryland (Andrew Chandler), OmniGlo's "Black Diamond Leader," who modestly insists you simply call him "Pharaoh." Andrew Chandler shows the right amount of restraint with the southern, electric sadism of Pharaoh. He is the perfect mix of business guru and masochist. You can tell how he relishes the way his followers refer to him with cultish reverence. It's this insanity that turns Wrath of Ponzi on its head, transforming a formerly entertaining comedy into a shocking, violent spectacle in a matter of seconds.
Ponzi
is a classic show that fits right into the spirit of Fringe. Its entertaining script and solid acting make it likely one of the more unforgettable of shows you'll see this week. Just be warned, it's not for the faint of heart.
—Carey Bray
The Waiting Room
6040 Almon Street
$10

Tuesday Sept 6th, 9pm
Wednesday Sept 7th, 6:55pm
Thursday Sept 8th, 7:40pm
Friday Sept 9th, 7:15pm
Saturday Sept 10th, 1pm