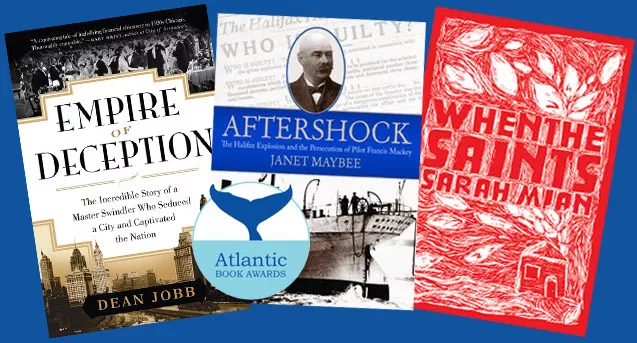 Nominees for the 2016 Atlantic Books Awards were announced today, and Nova Scotian authors were well represented. Locals Dean Jobb, Janet Maybee and Sarah Mian are the only writers on the list to be nominated in two different categories, and a new award has been created in honour of Cape Breton's late literary legend Alistair MacLeod.
The ABA's real story, however, is New Brunswick: Along with the launch of the New Brunswick Book Awards and a prize for poetry sponsored by Fredericton bookstore Westminster Books, for the first time the big awards night is happening New Brunswick. (Check the ABA site to get tickets to the gala, April 27 at Moncton's Capital Theatre.)
In honour of the awards announcement and as an ABA fundraiser, tonight writers Don Aker, Vicki Grant and B.R. Myers are part of a panel and creative writing presentation at the Central Library (7pm, $12). The nominee shortlist will also be presented, which will be useful for learning any tricky pronunciations. Dean Jobb, for instance. Is he a "job" like work, a "jobe" like the bible or "jobby" as in hobby? After you read the complete list of nominees below, head to the library to find out.
ALISTAIR MACLEOD AWARD FOR SHORT FICTION
Knife Party at the Hotel Europa
by Mark Anthony Jarman (published by Goose Lane Editions)
I Am What I Am Because You Are What You Are
by Carole Glasser Langille (Gaspereau Press Ltd.)
Wild Pieces
by Catherine Hogan Safer (Creative Book Publishing)
ANN CONNOR BRIMER AWARD FOR CHILDREN'S LITERATURE
Delusion Road
by Don Aker (HarperCollins Publishers)
Prison Boy
by Sharon E. McKay (Annick Press)
Rain Shadow
by Valerie Sherrard (Fitzhenry & Whiteside)
APMA BEST ATLANTIC-PUBLISHED BOOK AWARD, SPONSORED BY FRIESENS CORPORATION
Breakwater Books for
Racket: New Writing Made in Newfoundland
, edited by Lisa Moore
Nimbus Publishing for
A Seaglass Journey: Ebb and Flow
by Teri Hall
Pedlar Press for
Winter in Tilting: Slide Hauling in a Newfoundland Outport
by Robert Mellin
ASSOCIATION ACADIENNE DES ARTISTES PROFESSIONNEL.LE.S DU NOUVEAU-BRUNSWICK (AAAPNB) - LES ÉLOIZES - FINALISTES - ARTISTE DE L'ANNÉE EN LITTÉRATURE
Roman:
Car la nuit est longue
by/par Sophie Bérubé (Éditions Prise de parole)
Monographie:
Théâtre l'Escaouette, 1977-2012
by/par David Lonergan (Éditions David)
Recueil de poésie:
Les anodins
by/par Gabriel Robichaud (Éditions Perce-Neige)
ATLANTIC BOOK AWARD FOR SCHOLARLY WRITING, SPONSORED BY MARQUIS BOOK PRINTING
Stubborn Resistance: New Brunswick Maliseet and Mi'kmaq in defence of their lands
by Brian Cuthbertson (Nimbus Publishing)
S
eanchaidh na Coille / Memory Keeper of the Forest: Anthology of Scottish Gaelic Literature of Canada
by Michael Newton (Cape Breton University Press)
The Servant State: Overseeing Capital Accumulation in Canada
by Geoffrey McCormack & Thom Workman (Fernwood Publishing)
ROBBIE ROBERTSON DARTMOUTH BOOK AWARD FOR NON-FICTION, PRESENTED BY THE KIWANIS CLUB OF DARTMOUTH
The Times of African Nova Scotians, Vol. II
by Tony Colaiacovo (Delmore "Buddy" Daye Learning Institute)
Empire of Deception: The Incredible Story of a Master Swindler Who Seduced a City and Captivated the Nation
by Dean Jobb (Harper Avenue)
Aftershock: The Halifax Explosion and the Persecution of Pilot Francis Mackey
by Janet Maybee (Nimbus Publishing)
DEMOCRACY 250 ATLANTIC BOOK AWARD FOR HISTORICAL WRITING
The Story of the Basilica of St. John the Baptist
by Susan Chalker Browne (Flanker Press)
Empire of Deception: The Incredible Story of a Master Swindler Who Seduced a City and Captivated the Nation
by Dean Jobb (Harper Avenue)
Katherine Hughes: A Life and a Journey
by Pádraig Ó Siadhail (Penumbra Publishing)
JIM CONNORS DARTMOUTH BOOK AWARD (FICTION), PRESENTED BY BOYNE CLARKE
Amazing Grace
by Lesley Crewe (Nimbus Publishing)
What Kills Good Men
by David Hood (Nimbus Publishing)
When the Saints
by Sarah Mian (HarperCollins Publishing)
LILLIAN SHEPHERD AWARD FOR EXCELLENCE IN ILLUSTRATION
Doretta Groenendyk for
I'm Drawing a Picture
(also written by Doretta Groenendyk) (Acorn Press)
Ron Lightburn for
Frankenstink!: Garbage Gone Bad
(also written by Ron Lightburn) (Tundra Books)
Tamara Thiebaux-Heikalo for
Mayann's Train Ride
(written by The Honourable Mayann Francis) (Nimbus Publishing)
MARGARET AND JOHN SAVAGE FIRST BOOK AWARD, SPONSORED BY COLLINS BARROW LLP, WEED MAN MARITIMES, AND THE FAMILY OF JOHN AND MARGARET SAVAGE
A Stroke in Time
by Gerard Doran (Flanker Press)
Aftershock: The Halifax Explosion and the Persecution of Pilot Francis Mackey
by Janet Maybee (Nimbus Publishing)
When the Saints
by Sarah Mian (HarperCollins Publishing)
NEW BRUNSWICK BOOK AWARD FOR FICTION, SPONSORED BY MRS. DUNSTER'S AND FOG LIT FESTIVAL FOR READERS AND WRITERS
Entropic
by R.W. Gray (NeWest Press)
Knife Party at the Hotel Europa
by Mark Anthony Jarman (Goose Lane Editions)
A Measure of Light
by Beth Powning (Knopf)
WRITERS' FEDERATION OF NEW BRUNSWICK BOOK AWARD FOR NON-FICTION SPONSORED BY THE BRENNAN FAMILY
The Lost Wilderness: Rediscovering W.F. Ganong's New Brunswick
by Nicholas Guitard (Goose Lane Editions)
What is Government Good At?: A Canadian Answer
by Donald Savoie (McGill-Queen's University Press)
Boss Gibson: Lumber King of New Brunswick
by David Sullivan (Self-published)
WESTMINSTER BOOKS AWARD FOR POETRY
Not Even Laughter
by Phillip Crymble (Salmon Poetry)
Crossover
by M. Travis Lane (Cormorant Books)
Electric Affinities
by Michael Pacey (Signature Editions)