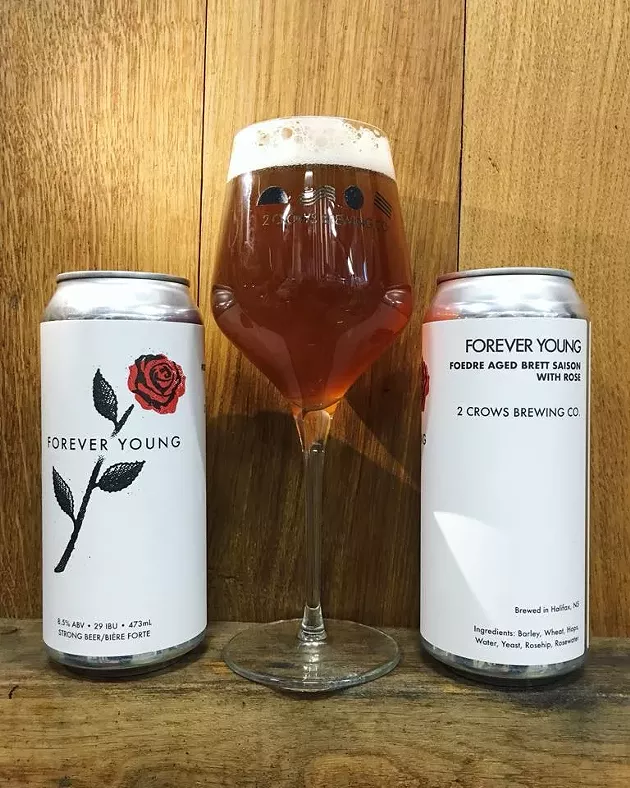 The
2 Crows Brewing Co.
hit Brunswick Street on January 28 last year, and it's been going strong ever since. "It's been a whirlwind for sure," says co-owner and brewer
Jeremy Taylor
.
Going forward, Taylor wants to release some of 2 Crows' core beers to Newfoundland and Labrador, New Brunswick and PEI. Halifax can look forward to more releases and collaborations as well.

"We're hoping to still focus on maintaining the quality of the core beers—and even evolving them to be better and better—while still having fun and innovating and coming up with new things."

The folks at 2 Crows are marking its one-year anniversary with some events TBA. They're also celebrating by releasing a bunch of new beer, of course. Taylor filled us in on all the details below.

Forever Young (8.5 percent, 29 IBU)
Foedre-aged Brett saison with rose
Release: Saturday, January 13
"This beer is a rustic saison, fermented in a foedre with our house yeast culture and an experimental brettanomyces strain. It was conditioned for about three months on locally foraged rosehips, and finally conditioned with a small amount of rosewater."
Panhandle Slim (4.9 percent, 17 IBU)
Foedre-aged multigrain farmhouse grisette
Release: Anniversary Weekend
"Brewed with barley, oats, spelt, wheat, and rye, fermented with a blend of saison and brettanomyces yeasts and conditioned for about four months in a foedre that previously held cognac. Super dry, earthy, lightly funky, and refreshing."
Magic Touch (6.8 percent, 22 IBU)
Foedre-aged golden ale with Brett C
Release: Anniversary weekend
"Brewed with pilsner and wheat malt, and fermented in foedre with a brett strain that gives subtle pineapple and wine-like flavours. The beer was dry hopped after conditioning for three months with Hallertau Blanc and Centennial, and the result is super white-winey, with big crushed gooseberry notes."
Small batch beers (400 cans each, available only at the brewery)
Bingo Bango (4.1 percent, one IBU)
Release: Saturday, January 27
Blackberry and bay leaf Brett gose, can-conditioned.
House Funk (7.7 percent, 29 IBU)
Release: Saturday, January 27
Brett saison, can-conditioned.
Dynamo (5.1 percent, 28 IBU)
Release: Saturday, January 27
Rustic saison with grapefruit, can-conditioned.