Entering the studio space of mixed-media artist Jenny Yujia Shi, a repetition in colour and shape arrests you before you even notice the view of Halifax Harbour. On every surface—even the slanting ceiling—arrows like the ones on Shi's passport point into oblivion. Faceless figures stack up neatly as Plexiglas cutouts on the table. A large corkboard holds a pinned, quasi-quilted figure in that same dry red—the hue of official documents and oxygen-filled blood.
Shi isn't some sort of hoarder. The holding on of bits and pieces of past work—like her recent Khyber window display Admit One, which used that fabric figure—is for budgetary reasons, which bleed into thematic ones. As she navigates living in what she calls "immigration limbo"—waiting for the government to consider her as more than a temporary resident, despite the fact she's been living in Nova Scotia for a decade—her work began to tell the story of being a citizen of no place while simultaneously trying to make a home in one.
"I wanted to go to a place where I could start new. There was a big fear of sticking in a comfortable bubble, so I came here," she says of arriving at NSCAD in 2009 to study printmaking and painting and then art history. "Because most of the people around me were white, it made me think not too much about myself as a person of colour. But it was really when I graduated and left the NSCAD incubator that I had to think about this: When it came to government grants, as a non-immigrant, there is almost nothing one is eligible to apply for."
"These things forced me to confront, 'I am not from here, I have no status, I have no home I can fall back upon.'" Back in China, she comes from a lineage of artists, her grandparents practicing traditional ink wash and her parents owning a gallery in Beijing.
"A few years back, when I was making art, there was this vague voice or instinct in me that I wanted to be making art about somebody who's here but not really present in a grounded way, but I didn't have the language to articulate it," Shi explains. "More recently, as a graduated and emerging artist, and someone who loves working with people in the community—and an immigrant hopefully soon—I think it has made me look at my art practice in a different way. I think I feel more clear on what kind of experience within the immigrant, migrant, newcomer margin I want to break apart."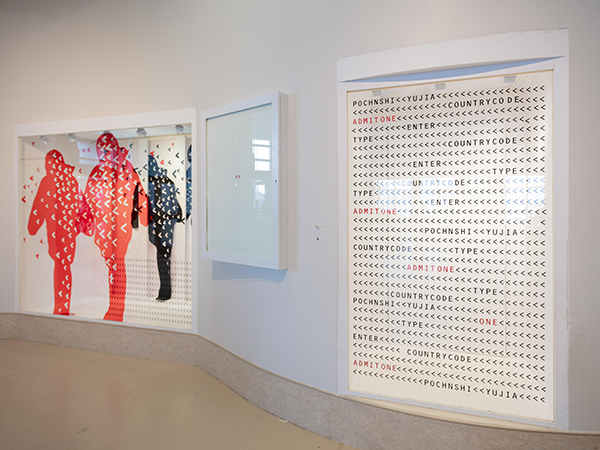 This thought process is visible in the laser-cut Plexiglas pieces she has on display as part of Studio 21's group show FRESH. "These figures almost seem like observers of their surroundings. They're present but featureless, they're not able to be here fully but they want still want to create a strong presence of themselves."
While Shi continues weaving elements of her lineage into her work—including experimenting with ink wash herself—she's also attempting to dismantle how we think of new Canadians. "When people first arrive here or are first out of school, applying to immigrate, they are faced with this very powerful stereotype of how you're supposed to integrate yourself into society.
"I've been thinking a lot about that and how one can reverse-engineer that concept: Maybe instead of thinking we're in need of help, maybe think about what it is that our experience—maybe lived experience, maybe professional experience—can provide for this community."