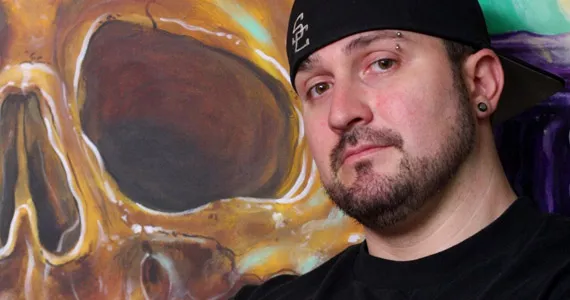 Tattooing
Since 2003
Trained
with Mike LeBlanc at Iron Ink in Truro
Style
I've had to become fairly well-rounded as I was the only person in my shop for the first seven years. I can do big black-and-grey works, traditional Japanese, full-colour, new school. At this point I've become well known for my colour realistic style, which is mostly colour portraiture. But I would not market myself as a one kind of artist.
And now you have help in the studio?
I just took on an apprentice, Jon Ryan. He went to art school at University of Windsor, Ontario. He was a client of mine...he took one of my seminars.
As an apprentice, I gather you need to spend a year working with an established artist. Is that right?
That's correct. Typically a year before you're tattooing any public. You learn right from the bottom up. You're learning about the cleaning first, because you're working with blood. You learn about cross-contamination, blood-borne pathogens. How to clean and sterilizing everything, breaking down a station for the guy you're learning under. It feels like you're doing the grunt work, but you learn the most important part of it, how to stay in the business the rest of your life.
With tattooing becoming more popular, where do you see tattooing going and trending?
In the past there've been a lot of trends, but now we're seeing trends dying off. Now it's becoming very particular to the client, meaning they're getting exactly what they want. They're not limited by the artist as they were one time. The quality of the artist has come up so much. The client works much more with the artist as we tell the visual story of the verbal story.
Why a studio in Elmsdale?
It was where my girlfriend lived. We ended up getting married and she already had a house here. The background thought was that I wanted to grow into that real custom work, and unfortunately in the city, the demand for the walk-in can get you caught up in that.
How long does it take to get in to see you?
About a year and three months right now. People are blown away by [the long wait], as am I. I'm so pumped that I have a clientele that's keeping me busy that far in advance. The last two years has been through the roof. I've been published all over the world, they're coming out of the States and international magazines. I have a full ink sponsorship, my own line of inks out and my own machine coming out. It's been a blessed year.