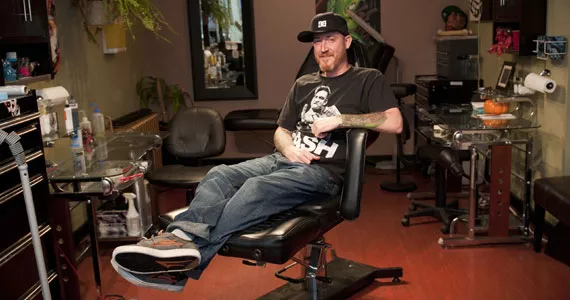 From
Lower Sackville
Tattooing
since 2007
Trained
with Scott Forbes, Oceanic
Style
I like doing a lot of different stuff. My favourite thing is when someone comes in with a cool idea and lets you do your own thing with it.
Are you seeing any trends in tattooing these days?
A lot of script. Everybody wants something written, whether it's a quote or something a friend said. And big tattoos, everybody wants a sleeve.
What's the best thing you've done on someone recently?
I did a half back piece on a dude. He's a skier and we did a mountain range with a sky set behind it, and a skier.
What's your favourite piece on your own body?
My chest piece by Scott. It's a big skull, its mouth bound, with guns and blood and a banner that says "Dead men tell no tales." It's pretty cool.
Someone who's considering getting a tattoo, what's the one thing they should think of when they go get one?
Tattoos are forever. And keep in mind, you get what you pay for. Ask for a portfolio as soon as you walk in the door.