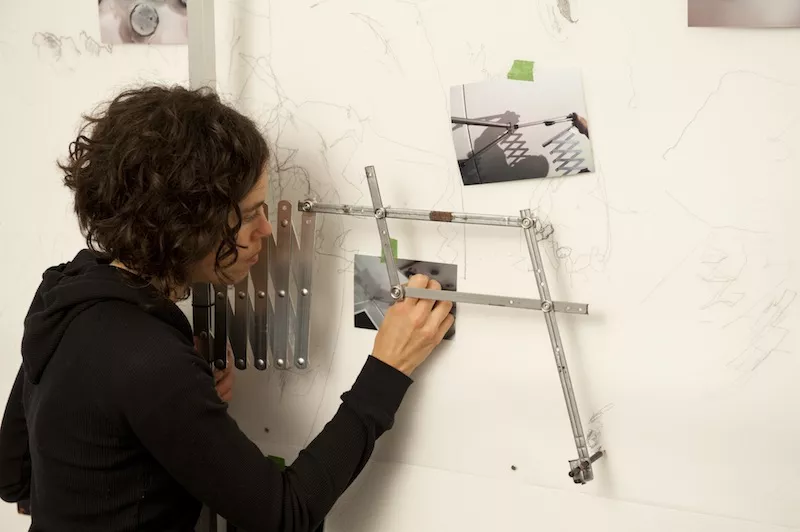 Art and science—previously locked in Hatfield and McCoy-style perpetual conflict—joined peacefully at the Art Gallery of Nova Scotia with Synaptic Connections: Art and the Brain. Featuring work from Alan Syliboy, Colleen Wolstenholme, Sarah Maloney, Mitchell Wiebe and Rose Adams, the exhibition, open until January 29, focuses on creativity and how the brain can inspire and produce it.
Throughout the duration of the exhibit, two artists-in-residence, Melissa Marr and Heather Wilkinson, have constructed a a large, kinetic felted waterfall relating to the unconscious mind, a collaborative mural exploring how the brain processes information and and an installation in foil tape relating to pathways in the brain. Marr and Wilkinson had brains on the brain for this residency, and this Sunday, January 22 at 2:30pm, they will give a presentation of their residency installation project, Minding, also discussing their collaborative experience.
"We have worked together on and off for the past three years, and in the residency had the opportunity to include daily interactions with visitors in the development of the work," says Marr. Discussing their mural made with a pantograph tool, Wilkinson says: "We began a collaborative drawing that would connect gallery visitors passing through the installation at different times, and would mirror the way that our brains process information by prioritizing some details over others."
Marr and Wilkinson took inspiration from museum patrons during their residency. "Working alongside people (felting, drawing, making transfer prints) we were able to connect with others and share excitement about processes and stories," says Marr.
Using the brain as a subject also proved inspirational for the pair. "When artists work they grapple with ideas, materials and processes, but don't often talk directly about creativity," says Wilkinson. "One of our favourite brain researchers, Dr. Eric Kandel, described the brain as a creativity machine."
"We were really inspired by an early pioneer from the late 1800-early 1900s, Santaigo Ramon y Cajal who came into research from the perspective of an artist; and his careful observations, drawn with great delicacy, are still the basis for essential understandings about communication between neurons," says Marr.
At their Sunday afternoon talk, have a peek at their brain-centric art and learn not only about synapses, but how revitalizing artistic collaboration can be. "I think we know each other better as artists, and we know what we need individually. We'll walk into the next project open to what can happen, but also with this foundation of having worked together daily over four months." says Marr. "It's also reinforced our interest in temporary site specific work. And working with tape—my god, we love tape."