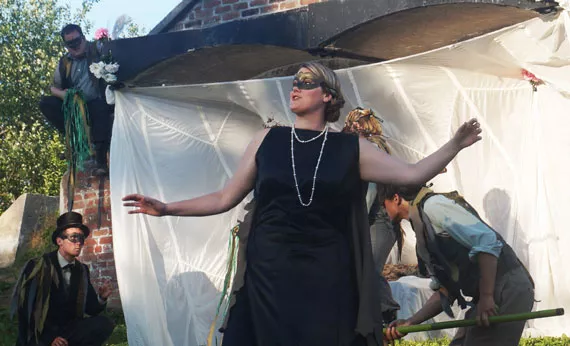 A slice of history and an epic love story combine to make Antony and Cleopatra spellbinding theatre, says Shakespeare By The Sea's co-artistic director Elizabeth Murphy.
"People have an amazing familiarity with this story," she says, as the cast and crew begin to trickle into the Park Place Theatre space to begin a day of rehearsal for the show, which opens Friday, August 7. "So many people have seen the movie version with Elizabeth Taylor and Richard Burton."
And while the movie version and Shakespeare's version are not identical, the story of power and passion and all-encompassing love is common to both.
Murphy, who is directing this production, has dreamed of staging Antony and Cleopatra for several years, but there were challenges to address: the four-hour piece had to be edited down to two, and many of the 50-plus characters combined so they could be played by the company's 16 actors.
The titular characters are played by well-known local actors Christian Murray and Geneviève Steele. Murphy says one reason she cast them was because they're close to the ages that Antony and Cleopatra would have been. "A baby can't play these roles," she says with a wry chuckle.
"Antony is a powerful man, but he represents the old way of doing things," says Murray. "He's a warrior in a time when empires are changing and strategy is what matters. Plus he's aging, although he doesn't want to face that. He creaks a bit after battle."
Murray describes Shakespeare's Mark Antony as a complex character completely besotted by the mercurial Cleopatra. He sees echoes of King Lear in Antony's eventual disintegration, and shadows of Hamlet's madness.
The role of Cleopatra is considered one of the great parts for actresses, and for Steele, who recently gave birth, it's doubly sweet. "I can't think of another job where I could be nursing my baby while I work," she says of bringing her two-month-old to rehearsal.
Steele says no one would describe Shakespeare's Cleopatra as unselfish, but she's a true survivor who is willing to do whatever is needed to get what she wants: "She's a fascinating character who turns on a dime."
Cleopatra's bewitching ways ignite an enduring and ultimately fatal passion in Mark Antony, but Steele says the love between the two was definitely mutual. "Cleopatra, as powerful as she is, has a speech about being just a woman in love," she says. "She gives up a lot for her love."
Antony and Cleopatra is one of three shows in SBTS' 2015 summer season. The family-friendly musical comedy Sleeping Beauty and the ever-popular Midsummer Night's Dream have been running since the beginning of the summer. And despite a soggy July, attendance numbers have been good.
"We are definitely missing our indoor rain space," says Murphy, referring to the Park Place Theatre, rendered unusable after a fire last year. "But when the sun actually does come out, people are flocking to the shows."
---
Antony and Cleopatra
August 7-September 4
Cambridge Battery, Point Pleasant Park
$20, shakespearebythesea.ca