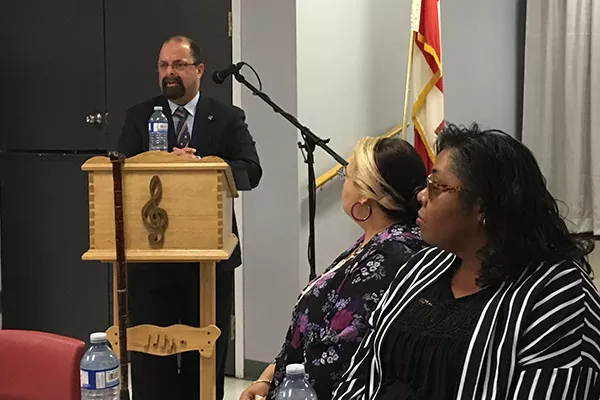 The province's welfare transformation is little more than a rebranding according to an anti-poverty advocacy group.
"I see little sign of transformation where the rubber meets the road," says Benefits Reform Action Group member Aron Spidle.
The department of community services is restructuring the benefits people receive for shelter and basic necessities by grouping them into one Standard Household Rate. Part of the ongoing transformation plan is a change in language.
"We are committed to increasing the income assistance rates, with phase two of the Standard Household Rate (SHR) being introduced later this year," says the department.
The new language around Employment Support and Income Assistance translates to increased benefits and flexibility for welfare recipients, but members of BRAG say the value of those changes are exaggerated.
BRAG member Tim Blades says the average recipient will barely notice the difference between now and five years ago. "There have been some good changes with the transformation," he says, but "combining it into one 'standard household rate' does nothing."
The SHR replaces the old welfare categories such as shelter and personal allowances, which prevented people from getting the maximum benefit when it was based on monthly expenses. With the new SHR, the department says more people will receive the maximum benefit at a standard rate
"It will provide clients with greater predictability for their monthly payments, allow more flexibility in how our clients choose to spend their assistance and improve administration of the program," says a department spokesperson.
The new Standard Household Rate will come into effect in January 2020, but the department says it's just one part of a larger transformation that will be more effective in delivering services and alleviating poverty.
"Only considering the SHR means other important investments made by government to build income security are not being considered," says the department. "We know from best practices across many jurisdictions that focusing on income assistance rates alone does not provide an effective solution to financial insecurity."
The department lists dozens of new programs for ESIA recipients and low-income youth to prevent poverty, along with new grants and programs shared between several other departments. But Spidle says the transformation does little to encourage him.
Spidle was featured in a 2015 documentary, My Week on Welfare, as a typical welfare recipient on disability. In the film he describes his budget on welfare, and director Jackie Torrens spends part of her experimental week as his roommate.
At a May screening of the film, Spidle recounted his ongoing experience with income assistance. "By the time that I pay my basic bills," he said, "I have about $50 to $60 a month, roughly, left from my income assistance cheque with which to purchase groceries and grooming and cleaning supplies and everything else."
Scraping by on low income means even the best of plans can come crashing down in a moment, says Spidle. "Life's unexpected happenings can be a disaster, and even the highlights can be tinged with sadness and anxiety," he says.
Even a small rent increase can change everything. "As a result of the abysmally low rates, it looks as if I will have to leave my home in the spring of 2020," he says.
Since his apartment building was bought by an investment company, he's been notified that electricity won't be included in his rent anymore, so the cost is going up.
"I simply can't manage the increased expenses," he says. "They've done nothing legally wrong as far as I can tell, it's just business. But there's no flexibility in an income assistance budget to meet these kinds of changes."
A recent national report by rentals.ca found that rent for a one-bedroom apartment in Halifax increased by almost $200 in the last quarter. Despite a quick decrease in April and March, the province has the fourth-most expensive average monthly rent in the country.
From 2015 to now, little has changed in Spidle's life despite the so-called transformation. "Friends have tried to help, but given the realities and the policies of the ESIA program, I've either had to decline their offers," he says, "or their efforts have been ineffectual."
BRAG member Tim Blades says since the transformation began in 2015, it's been full of "paltry increases" that give the impression of significant change but, "it does not give someone more financial freedom when their rent eats up a majority of their money—which is true regardless of what they call it."
Spidle adds that he has seen positive changes through his work with the group, but the increased cost of living hasn't been considered. "I don't want to take anything away from those who do work hard, and who do care," he says, but the changes make little difference in his life.
"It feels like the door to change for those living in poverty might've opened a small crack, but a celebration would certainly be premature," says Spidle, quoting Feed Nova Scotia's response to the 2018 budget announcement.
Halifax-based human rights lawyer Vince Calderhead says once you account for the increased cost of living since 2015, the recent changes look more like a cut than an increase.
In terms of provincial benefits, he says, "In every single case, taking into account inflation, the transformation means people will be worse off next March than they were at the beginning."
By Calderhead's calculation, the total increase in provincial benefits for a couple with two children on income assistance from 2015 to 2020 amounts to $1,345 per month—an extra $63.
But that amount is $63 less than it would be if benefits were increased to keep up with the cost of living. Doing so would amount to $1,409 per month.
Government says its goal is to "put the client at the centre of our work," but on the ground BRAG says little has changed.