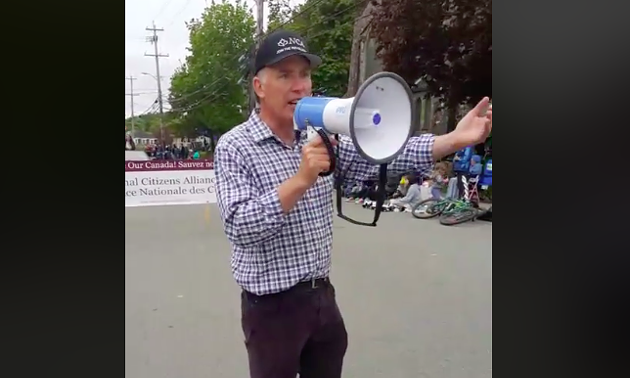 Bullhorn in hand, members of the National Citizens Alliance had a message for the Apple Blossom Festival.
"Wake up!" they said. "We don't want to become a globalist village."
The far-right nationalist group was a surprising presence amongst the community groups, children and colourful mascots making up the Apple Blossom Festival's Grand Street Parade on Saturday.
"We need to protect Canada's identity, culture and heritage," leader Stephen Garvey yelled into a megaphone to the throngs of families and face-painted children watching. "We must, we must everyone, protect our identity."
A minor political party originally formed four years ago by Garvey in Alberta, the NCA preaches a small government, low-taxes and anti-immigration doctrine.
Garvey is
also known for leading protests
as a former associate and spokesperson for the Worldwide Coalition Against Islam, and many of NCA's messages this weekend contained dog-whistle phrases warning against the influences of a "globalist state" turning Canada's identity into a "mongrel" culture.
"There's a lot of myths being perpetuated in our society around immigration," Garvey said at a rally against "socialists and pseudo-Marxists" held Sunday afternoon in Halifax's Victoria Park.
"We are told Canada is a country of immigrants. This is false because Canada was settled by settlers and pioneers. These weren't immigrants. These were settlers and pioneers."
National Citizens Alliance at a family parade? #AppleBlossomFestival, do better next time. Hate dog-whistling doesn't belong in our province. #nspoli #letusbelovinghopefulandoptimistic

— Brunny (@Brunny7) May 26, 2018
The Apple Blossom festival's directors apologized for the NCA's presence in a
press release sent out Sunday
, and say the organization has been banned from future festivals.
"It has come to our attention that a group participating in the parade was using the Grand Street Parade, which is a family-friendly event, to spread inappropriate political messages in the realm of what the festival board of directors and many public attendees consider hate speech," reads the statement. "On behalf of the festival, we apologize for anyone who may have felt unsafe at the Grand Street Parade because of this political party's attendance and derogatory messaging. In future years, we will strive to ensure that parade attendees will not have to endure a situation similar to that which was present this year."
The Apple Blossom Festival does permit political parties to enter the annual parade, but entrants must fill out a detailed application and promise not to use the parade as a platform for their political views.
"Nowhere on the application of the aforementioned entry did it mention that this entry was representing or aligned with a group with such malicious viewpoints," says the board of directors.
The NCA's East Coast tour didn't end with the parade, though. It also included a public talk on Saturday with University of New Brunswick professor Ricardo Duchesne. The
controversial academic
has been
denounced by university colleagues
for his teachings that immigration is destroying Canada's "European character."
"We were just up in Fredericton," Garvey told those assembled for the event. "We were in the Library walking around, and on the wall, there was a picture of prime minister Trudeau, the immigration minister [Ahmed Hussen], the mayor of Fredericton, it was all these letters. You know what the message was? 'Diversity is our greatest strength.' This is what they're teaching to our kids. It's insanity."
During the rally on Sunday, Garvey took aim at Halifax council's
decision this past winter
to temporarily remove the statue of racist city founder Edward Cornwallis while a commemorative panel examines the legacy and impact of celebrating a genocidal symbol of colonization.
"There's political correctness that is taking over our society," said Garvey. "They took down the Cornwallis statue, trying to deny our heritage. Our identity. Our history as a people. That is shameful."
The temporary removal of a bronze statue cast in the image of a man who violated treaties and issued a proclamation for Indigenous scalps was recently condemned in an opinion piece published by the
Chronicle Herald
for its negative impact on the city's
cash-strapped tour guides
.
When I visited Halifax a few months back I walked 20 minutes by myself just to behold the piece of plywood that remained. I thought it was amazing that the residents rejected the statue. I even took a selfie.

I think your tourism will survive. pic.twitter.com/fhjlGIGUUf

— Stacey Silins (@staceroo) May 27, 2018
At 165 floats, this year's Apple Blossom parade was its longest ever. The theme was "Honoured by History, Inspired by Change."