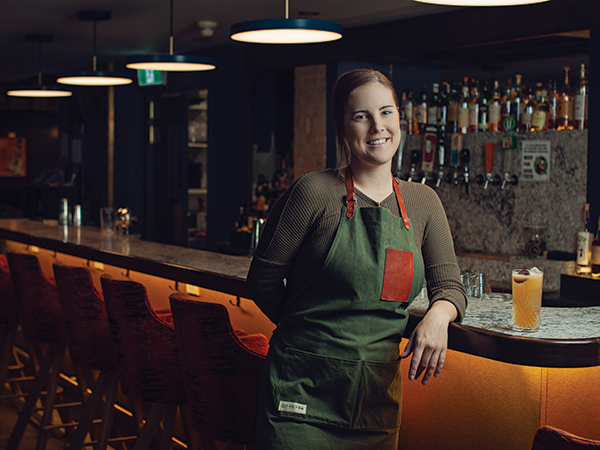 Spirited Away
Oct 25-27
Various locations, Lunenburg
nsspiritsfestival.com
---
Anne-Marie Bungay-Larose was out for a drive one night when she noticed—while the air was cool and crisp—the smell of fresh flowers wafting on the breeze. In that moment, it felt as if winter and summer collided.
"I wrote that feeling down," Bungay-Larose (a Halifax bartender who also goes by Anne-Marie BL) says, "and decided to create a cocktail about it."
Her cocktail, called Divergence, combined opposing ingredients, harmonizing them into one experience. For the sour, there was sweet. For the warmth, there was cooling. She served the cocktail in a dainty teacup, and then smoked it to infuse the rugged outdoors. Divergence placed first at Patrón Perfectionists' competition in Montreal last year, propelling her to nationals in Vancouver.
This weekend, Bungay-Larose will be sharing her love of cocktails at Spirited Away, the fifth annual Nova Scotia craft spirits festival in Lunenburg. Her workshop will feature all the odd ingredients she has discovered while tending the bar.
"I've been so lucky to be involved with the festival from the beginning," Bungay-Larose says. "They've had a great rotation of people, and this year they're flying in a bartender from Calgary."
Spirited Away is an opportunity for local distillers to promote their products and for mixologists to share their creativity. It's similar to the bartending competitions Bungay-Larose has participated in over the years. She says competitions allow her to express her creativity, play with complex ingredients and dig deep into a singular concept.
However, she is quick to point out that you don't need to compete to be a good bartender. While proud of her competitive experience, Bungay-Larose is most proud of learning how to be a supportive, considerate co-worker.
"Take it seriously, but not too seriously," she says about the craft. "Over time, I realized that there's a balance to be had. I will never let go of high standards, but I can also give people the freedom to be themselves and channel their own creativity."
Bungay-Larose got her start in bartending more than eight years ago at The Middle Spoon. Bar Kismet co-owner Jenner Cormier was the head bartender at the time, and he often travelled to participate in bartending competitions. Seeing that, Bungay-Larose realized crafting cocktails could be a life-long profession.
"I became pretty obsessed," she says of bartending. "It aligns with a lot of my characteristics. People ask if I'm ever going to switch careers or go back to school. My answer is always, 'No, I'm in this for the long run.'"
While at The Middle Spoon, Bungay-Larose also bartended at Noble, the speakeasy-inspired bar downstairs where the cocktail menu takes slightly more creative liberties. "The cocktails at Noble had more depth," she says. "It gave us room to explore."
After six years, Bungay-Larose felt the itch to shake things up. She worked at The Watch That Ends The Night in Dartmouth until it closed in July, and for the past few months she has been at The Carleton.
Bungay-Larose has found endless support and camaraderie in the Halifax bartending scene. She has seen more women enter the industry since she started behind the bar, and she encourages new bartenders not to shy away from the local cocktail community. "If you're new, don't be afraid," she says. "We're all fiercely supportive and we love to share our passion. There's that one line that's quoted at almost every event I participate in: 'A rising tide lifts all boats.' It's cheesy, but it's true!"