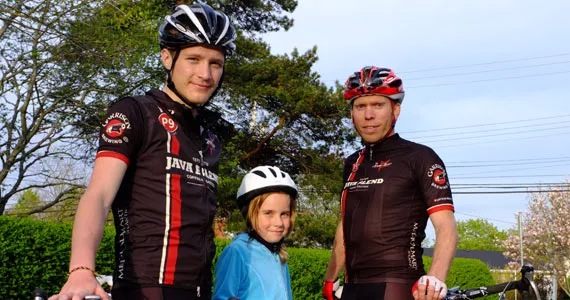 Spandex. It's hard to take seriously. Like visitors from some utopian future, the cyclists who wear these plastic outfits seem out of place, disconnected from the real world. With aerodynamic helmets, futuristic sunglasses and protein-filled food in bar form, they seem ready to be shot into space, to leave this mixed-up planet behind. It's easy to dismiss them as they buzz by in their brightly-coloured groups, but it's time to take a deeper look. There's a new crew in town and there's a lot going on behind those synthetic team jerseys.
The Java Blend Racing team was born on the road. Founder John Newgard and Java Blend Coffee owner Jim Daikaios initially saw the team as a vehicle to grow the sport of cycle racing in Nova Scotia, but since its inception on a ride last summer, the team's mandate has blossomed to include some serious community outreach and cycling advocacy programs. Throughout the fall of 2011, the team matured as a community hub, connecting JBR members with community leaders and vital programs such as the Ecology Action Centre's Making Tracks program and reachAbility's Bike 360 program.
JBR team rider Simon Roberts met reachAbility's Tracey Williams (an avid cyclist and racer himself) through local cycling events last fall. Together with JBR's sponsors, they were able to pilot the Bike 360 program to help provide access to community support for people undergoing rehabilitation through the Department of Corrections. Bike 360 gets its name from the program's six participants, its six-week duration and its sixty-hour time commitment.
With support from Bicycle Nova Scotia, The Department of Community Services and folks like Roberts, Williams and Can-Bike's Bob White, Bike 360's participants were supplied with bicycles and offered a comprehensive Can-Bike training program to give them the skills to maintain their bikes and get around town. Although access to alternative transportation and rehabilitation was the program's main goal, four of the program's participants are now actively employed as mechanics in various local bike shops as well. After speaking with Roberts about the success of the program, it is clear that these types of community involvement projects have become an integral part of the JBR team's mission.
But Roberts isn't the only one. When not training for the upcoming racing season around eastern North America, JBR members Lawrence Plug, Kimberlea Fougere and Kaarin Tae have joined Newgard in volunteering for the Active and Safe Routes to School program. As certified Making Tracks instructors, they hope to run safe riding workshops at elementary schools around the province, getting kids active, reducing transportation needs, and having fun.
In addition to participating in community outreach programs, JBR has taken on its own projects as well. Through the support of sponsors like Alan and Allison Avis from Custom Building Maintenance, The Nauss Bicycle Shop, Opus Bicycles and Vertex One, Newgard and JBR have implemented the Young Riders Program which offers coaching, mentoring, and financial support to young riders who have shown great sportsmanship and enthusiasm for cycle racing, but lack the necessary means to be a part of a team. With their first full racing season upon them, everyone's excited to see how far (and fast!) these young cyclists will go.
Now, tight tights aren't everyone's cup of tea, I know, but remember, the next time a team rider pulls up to a traffic light on their carbon frame---that spandex is only one of the pairs of pants they wear. Who knows, maybe now those leggings will start to look pretty good, maybe you'll even want to try on a pair yourself.